Chipotle E. Coli Outbreak Reaches Six States, Shares Tumble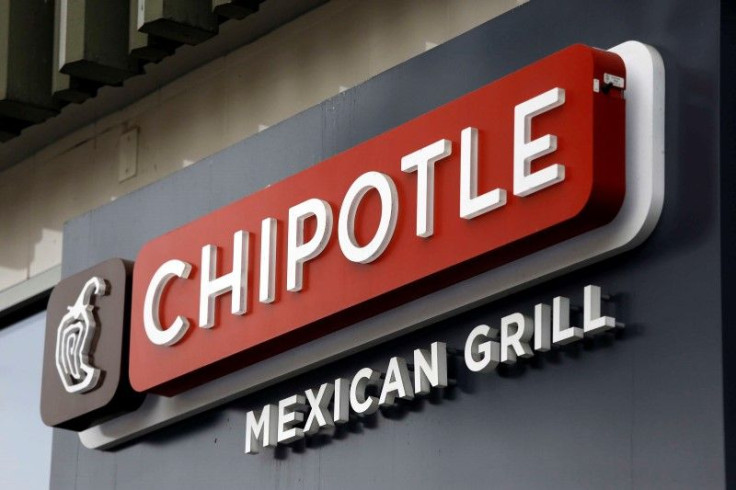 LOS ANGELES (Reuters) - More than 40 people have fallen ill with E. coli food poisoning after eating at Chipotle Mexican Grill restaurants in six different states, federal health officials said on Friday, sending shares of the burrito chain to an 18-month low.
The outbreak expanded with new Chipotle-linked E. coli cases reported in California, Ohio, New York and Minnesota, the U.S. Centers for Disease Control and Prevention said.
The CDC said 45 people got sick from the E. coli O26 outbreak strain, and of those, 43 reported eating at Chipotle. Sixteen people have been hospitalized and no deaths have been reported.
Chipotle's tagline is "Food with Integrity", and it has a reputation for serving healthy, fresh food. This outbreak, the company's third food safety lapse this year, has been a black mark for the popular chain that saw its shares tumble 12.3 percent to $536.19 on Friday.
The outbreak also speaks to changing consumer tastes. U.S. diners are demanding more fresh, less processed foods. While such products are generally healthier, cooking and other types of processing can kill pathogens that make people sick.
The source of the food contamination has not yet been found, but some investigators and experts suspect produce or another perishable item. High heat kills E. coli, and it is unlikely that all of the affected restaurants undercooked meat.
COAST TO COAST
The Chipotle outbreak was first identified in Seattle, Washington and Portland, Oregon, and the company closed all 43 of its restaurants in those markets on Oct. 31.
Last week, Chipotle reopened those units after deep-cleaning the properties and replacing food.
Chipotle, which also has hired food safety consultants, is testing food and changing food preparation procedures, and said it is taking similar actions at the other restaurants linked to the outbreak.
The new reports of illness were tied to Chipotle restaurants in Turlock, California; Akron, Ohio; Amherst, New York; and Burnsville, Minnesota.
Due to the timing of visits - in late October and on Nov. 6 - and the average time of illness onset, Chipotle does not believe it is necessary to close those restaurants, company spokesman Chris Arnold said.
The number of cases could go higher as state and federal investigators check to see if other reported E. coli illnesses match the Chipotle strain.
One Chicago customer, who ordered a chicken bowl with brown rice on Friday afternoon, was undeterred by the news.
"If it was closer to home, you might think about it more," said the customer, who declined to give his name.
In a Seattle area Chipotle, Akberet Gedlu, 29, said she scanned the restaurant for signs of uncleanliness when she arrived, concerned about the expanding number of cases. But she picked up a chicken burrito with her young son.
"I hesitated. I don't want to get sick. It was convenience. It's right there," she said.
Analysts expect the outbreak to dent sales.
Seattle attorney Bill Marler, who is representing nearly three dozen people affected by the outbreak in Oregon and Washington state, said the increase in reported cases raises the likelihood that the culprit will be identified.
"There has to be a common supplier with a common food item," Marler said.
According to the CDC, most people infected with E. coli develop symptoms of illness about 3 to 4 days after contact with the germ.
CDC currently is investigating a separate outbreak, unrelated to Chipotle, of Salmonella Poona infections linked to imported cucumbers. Four people have died as a result of that outbreak, which has made 838 people in 38 states sick.
(Additional reporting by Tom Polansek in Chicago and Eric Johnson in Seattle; Editing by Sandra Maler, Bernard Orr and Ken Wills)
Published by Medicaldaily.com