Christie Brinkley's 5 Tips On How To Age Like A Supermodel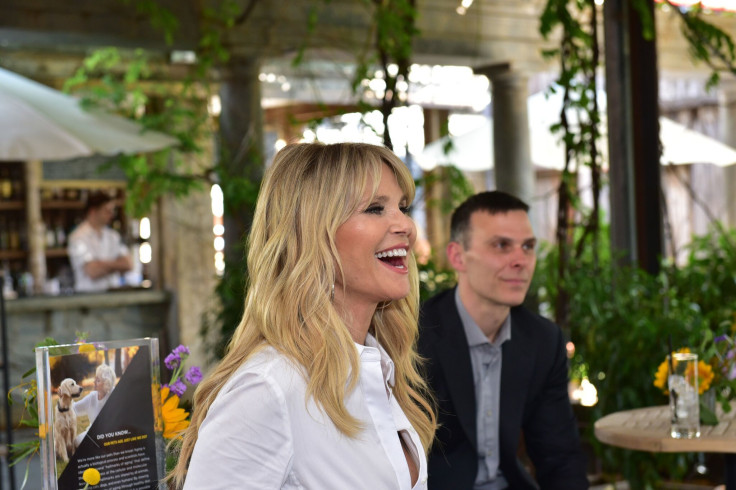 If there's one person who epitomizes aging goals, it's Christie Brinkley. The 63-year-old supermodel, who has somehow escaped the clutches of time, divulged her secrets at a healthy aging happy hour in partnership with Purina Pro Plan. The company collaborated with Brinkley to discuss healthy aging in people and pets, as Brinkley is a huge animal lover.
Thankfully, you don't have to be a supermodel to age like one. We had an exclusive chat with the supermodel to learn how she looks so good, and Brinkley offered up five simple tips.
Read: The Best Anti-Aging Cream For Younger-Looking Skin: 3 Ingredients That Will Fight Skin Damage
Always Wear Sunblock
Growing up in Malibu, California, Brinkley spent her days on the beach, meaning she got lots of time under the sun. Her exposure only got worse as she began modeling. "They'd hand me a bikini and say, 'Put this on, go get a tan,'" she remembers. "This was the 70s and 80s. Tans were in and I was very happy to comply." While the model credits products from her skincare line for reversing the damage, she believes limiting your damage to harmful rays in the first place is key. The American Academy of Dermatology recommends applying a broad-spectrum, SPF 30 (or higher), water-resistant sunscreen everyday.
Clean Up Your Diet
An avid vegan (with an exception for the occasional mozzarella indulgence), Brinkley believes what you put in your stomach is just as important as what you lather on your skin. "Diet will affect the way you look and the way you feel," she says. "And the way you feel affects the way you look." Of course, that doesn't mean you can't treat yourself. Brinkley's favorite summer meal of fresh mozzarella, tomatoes and basil may go against her typical vegan lifestyle, but she gives into the craving when it hits."I'm a goner," she says of the simple dish. "It's like the best thing you can eat in the summer."
However, she knows when to reign it in. "I feel like I kind of did indulge a little and put on a couple of pounds," she explains. "So, I'm trying to ease off." Instead, Brinkley is following a rainbow diet, putting many colors of foods onto her plate. A pasta fanatic, she's swapped the typical wheat variety for versions made with beans and quinoa. "Everything goes back to that healthy diet," she advises.
Read: Health Benefits Of High-Intensity Exercise: HIIT Fights The Aging Process In Older Adults, Study Finds
Start Early
Brinkley explains that she took great care of her daughter, Alexa Ray Joel's skin, early on. She recounts how Joel always loved having her mother lathering on the SPF at the beach. "Her skin is impeccable," Brinkley says. "Her skin is a real example of taking care of it from the get go."
Wash The Day Away
Washing your face at the end of the night is vital, no matter how tired you are. Oil, dead skin cells and sweat develop on your face throughout the day, and adding makeup creates another layer of dirt, which can all lead to clogged pores and breakouts, according to doctor and TV host, Dr. Oz. Brinkley admits that even though she's adamant about washing her face before bed, there are times the supermodel slips up too.
Adopt A Pet
"My pets are like personal trainers," says Brinkley. "They'll remind you to get outside." She says that having dogs makes her see the beauty all around as she'll enjoy the little moments spent walking her dogs and admiring the sky.
Plus, the connection she feels with her pets keeps her young too. Brinkley shares one thing her four-year-old rescue pup, Chester, always does that makes her smile.
"He likes to sit with his paws up and lean back and look at me from upside down," she explains. "That unconditional love is really good for you. It's good for your soul."
See also: 5 Popular Anti-Aging Cosmetic Dermatology Treatments: How To Pick The Right Procedure And Doctor
What Is Cat Eye Syndrome? Caitlin Stickels, Model With Rare Genetic Disorder, Stuns In Magazine Photoshoot
Published by Medicaldaily.com