Compression Tights Won't Help You Run Farther Or Faster, Small Study Finds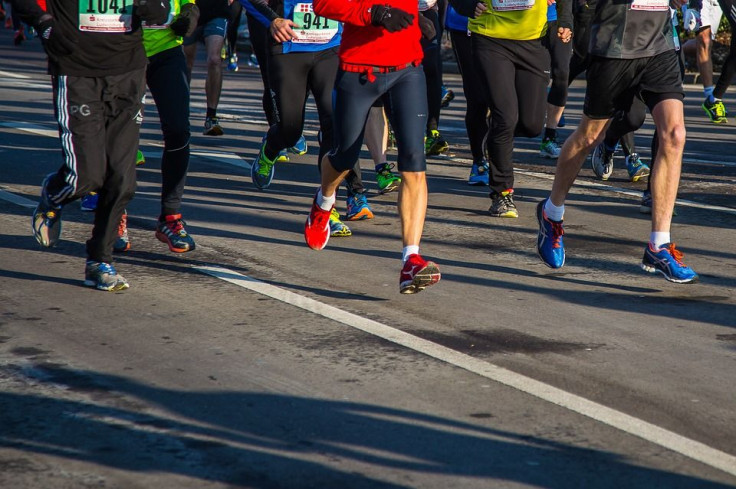 Sorry, runners. I've got bad news. Well, at least for those who wear compression tights. Despite popular belief, the form-fitting pants that are touted to help you perform better may not be so beneficial, according to a new Nike-funded study.
While many athletes swear the tight pants help reduce fatigue and make them run farther and faster, research presented at the American College of Sports Medicine's annual meeting showed otherwise.
Read: Is Running Contagious? Sharing Workouts On Social Media May Motivate Friends, MIT Researchers Conclude
For the study, the researchers tested two prototype compression tights, one with high-compression and the other with low, both of which were provided by Nike. The high-compression gear had the most compression allowed before being deemed a medical device, TIME reports.
Seventeen study participants, all of whom were males and experienced runners, ran on a treadmill for a half hour at 80 percent of their fastest speed wearing the compression tights, and then again without them. Advanced technology was used to capture their body's every movement while running. Additionally, their leg strength and jump height were tested on multiple occasions.
"We have a specialized treadmill with force sensors embedded in it that measures how hard a runner's foot is landing, how they're able to push off and how that changes over time," lead study author Ajit Chaudhari said in a statement. "The runners also wore a heart rate monitor so we could measure their exertion throughout the run."
Chaudhari and his colleagues were interested in testing the theory that compression pants reduce muscle vibrations and in turn, reduce fatigue.
Read: Ultra Runners May Feel Less Pain Than The General Population, According To Research
"When your muscle vibrates, it induces a contraction that uses energy, so theory was that less muscle vibration would translate to less fatigue," Chaudhari said. "However, the reduced vibration was not associated with any reduction in fatigue at all. In our study, runners performed the same with and without compression tights."
Despite this finding, don't go ahead and throw away your expensive compression tights just yet. The pants may be helping you run long distances in ways that weren't measured in the study. In fact, just the mere belief of thinking the pants are pushing you that extra mile, could be enough to get you through your long run. "If they make you comfortable, they could help you run further," Chaudhari said.
In addition to pants, the tight-fitting compression gear is also available as shorts, socks, sleeves, and other types of garments. So, even if the gear doesn't carry you to the finish line, at least it'll keep you warm.
If you're wondering what Nike - who sells what seems like hundreds of colors and styles of compression gear - had to say about the study they paid for, here's their statement: "Our goal is to better understand all aspects of human performance. The effect of compression products on performance is one of many areas we study and an area that is often studied by other researchers. The Ohio State University study, which focused on 17 athletes for up to 30 minutes per athlete, produced an interesting data point that delivered an additional perspective on the study of compression tights. Our role is to take athlete feedback and data from studies like this to develop world-class products for athletes at every level."
See also: Treadmill Users Need To Run 15 Percent Faster To Get The Same Workout As Running Outdoors
Weight Loss Success: Woman Loses Over 230 Pounds, Now Runs Ultra Marathons And Aspires To Body-Build
Published by Medicaldaily.com