Most Highly Rated Sunscreens Fail To Meet Skin Cancer Protection Guidelines: Study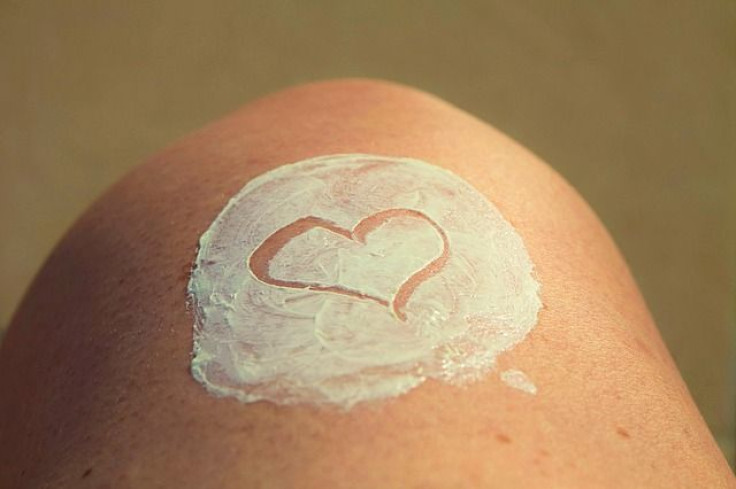 When it comes to important health products such as sunscreen, it's a better idea to go with a doctor's recommendation than a consumer's review. As shown by a recent study, many of the most popular sunscreens among consumers do not actually meet American Academy of Dermatology (AAD) guidelines, which makes them ineffective and a health danger. With warmer weather and longer summer days, this also raises the important question: What exactly do we need to look for when buying sunscreen?
For a study now published in the online journal JAMA Dermatology, a team of dermatologists investigated the effectiveness of some of the most highly rated sunscreens described by consumers. A total of 65 products were evaluated using the Kruskal-Wallis test, an AAD criteria of sun protection factor used to determine the sunscreen's effectiveness. According to AAD guidelines, a product must be broad spectrum, have an SPF greater or equal to 30, and be water resistant. Surprisingly 40 percent, or 26 of the 65 products, did not adhere to these guidelines, the most common reason being that they lacked resistance to water and/or sweat.
As to how the products could get such high ratings despite not being dermatologically effective, according to the report, "cosmetic elegance," whether skin sensation on application, color, or scent, was the most highly cited positive feature of the product. Although the researchers admitted that the study was limited due to the lack of demographic information on the consumer reviews, the results do suggest consumers may need to be more cautious when purchasing a sunblock this summer and should consult their dermatologist before they do an online review.
Sunscreen plays an important part in reducing your risk for skin cancer and works by filtering the light from the sun so that less of the dangerous sun rays are able to reach the deepest layers of your skin. According to Physics.org, most sunscreens use inorganic particles, such as titanium and zinc oxide, to form a physical barrier and reflect the sun's UV rays. Sunscreens also have organic components which work to simultaneously absorb UV rays and release their energy as heat.
So what should you look for when buying a sunscreen? Start with the SPF, the number that you use to help determine how long you can stay in the sun before getting a burn. According to AAD guidelines, it's important to look for a product with an SPF of 30 or higher. Also opt for a "broad spectrum" sunblock, meaning one that will protect you from all types of UV rays that can cause skin damage. Sunscreens that are not broad spectrum and carry less than 15 SPF must carry a skin cancer warning. Lastly, it's important to opt for a water-resistant product. Although no product is allowed to be labeled as waterproof, the best water-resistant sunscreen can last for 40 to 80 minutes, although they should be reapplied after swimming, Best Health Mag reported.
Source: Xu S, Kaw M, Agarwal A, Rademaker A, Kundu RV. Sunscreen Product Performance and Other Determinants of Consumer Preferences. JAMA Dermatology. 2016.
Published by Medicaldaily.com