Could Postpartum Psychosis Symptoms Explain The Capitol Hill Shooting?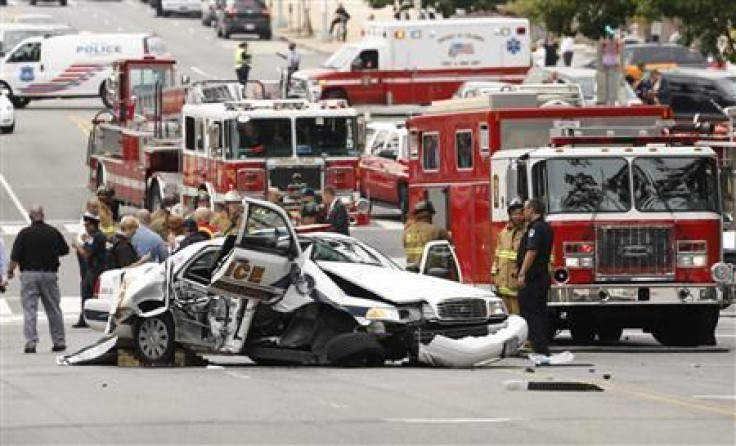 As details surrounding the Capitol Hill shooting continue to emerge, police have learned that Miriam Casey, the woman who was shot dead following a high-speed chase that ended at the White House barricades, may have suffered from various psychological disorders including schizophrenia and postpartum depression. Now, a more serious condition, postpartum psychosis, could take the blame for this unfortunate incident that involved Casey's 1-year-old child.
"[Carey] may have been never been treated because of confidentiality issues or maybe family did not know about it," Dr. Igor Galynker, from the Family Center at Beth Israel Medical Center, told ABC News. "Because she was pregnant, she may have gone off medications so as not cause birth defects. After delivery, she may have developed psychosis and continued on or off the medication for close to a year."
Over 80 percent of first-time mothers experience some type of change in their mood during the postpartum period. Postpartum blues, also referred to as baby blues, are fairly common and occur within the first few weeks after delivery. Mild symptoms include mood swings, irritability, anxiety, and lack of concentration.
When baby blues symptoms persist and begin to affect the mother's relationship with her child, she may be suffering from postpartum depression. All women run the risk of developing postpartum depression usually during the first two or three months after a child's birth. Symptoms can range from loss of appetite and insomnia to suicidal thoughts.
Postpartum psychosis is considered the most severe of all puerperal psychosis disorders. Around one to two women out of 1,000 experience these relentless symptoms that start as early as 48 hours after delivery. Signs that a new mother could be suffering from postpartum psychosis include hallucinations, paranoia, disorientation, and attempts to harm her child.
Women with a family history of psychiatric conditions such as bipolar disorder are at a higher risk of developing postpartum psychosis. Although there is no cure for the condition, it is considered treatable. Women who are worried about its development should contact their doctor or an emergency hotline.
New mothers who do develop postpartum psychosis stand a significantly higher risk of hurting themselves or their baby. A five percent infanticide or suicide rate has been associated with this psychiatric disorder. A history of paranoia and delusions could have pointed to a serious problem going on with Miriam Casey.
"[Her] main symptoms were not depression but were paranoia and delusions," Dr. Galynker told ABC News. "But it is all unclear because no one has looked at her medical records. What we have seen is close to a year of psychotic episodes and hospitalizations and [encounters] with police."
Published by Medicaldaily.com