In Crystal City, Texas, Contaminated Drinking Water Flows From Faucets: 'Looked Like Black Sludge'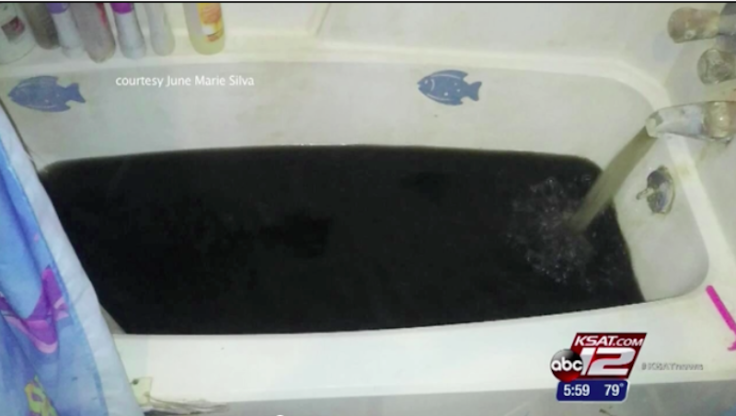 Most of the world has access to drinking water, but proper sanitation can be hit or miss, even in first-world countries like the United States. Despite the state of emergency declared in Flint, Mich. because of the town's lead-filled water, it seems like Crystal City, Texas, didn't get the memo that clean drinking water has become a hot-button topic: Residents are reporting oil-like water coming out of their faucets.
According to local news outlet KSAT, residents of the town of 7,500 found "black sludge" flowing from their faucets Wednesday night. Town officials told KSAT the color of the water was due to sediment being flushed into distribution lines after the town's water tower was drained to be worked on. The only problem was, they didn't tell anyone until the following morning.
"We didn't get a proper warning," resident Nora Flores-Guerrero told KSAT. "They didn't post anything or send out any type of message to warn the residents. It was pretty scary."
The town published a post on its Facebook page at noon on Thursday, saying the town's elevated tank was undergoing renovations, having been drained the previous day. This delay in communication caused one resident to respond to the post saying, "All late thanks. Don't forget some people don't have Internet resources."
Carlos Ramirez, Crystal City's water superintendent, said the tower hadn't been cleaned in at least 30 years. When asked why he didn't warn residents earlier, he told KSAT he didn't think the sediment would get in the distribution lines.
Normally, town residents would be able to call town officials and get the word out much more quickly, but Crystal City is a little different: There are currently few officials in City Hall. Earlier this month, the mayor, city manager, mayor pro tempore, a city councilman, and a former councilman were all arrested by the FBI and charged with taking bribes from a local casino owner in exchange for letting his illegal business continue while cracking down on competitors, according to The Washington Post.
Crystal City Independent School District Superintendent Imelda Allen said she noticed the black water Wednesday night, but "knew that right now, there's not really anyone in charge to oversee and to make people aware of the condition of the water."
Town officials told residents to run their taps until the water turned clear, and then to boil it just in case. Firefighters around the town also opened fire hydrants to leak out as much of the sediment as possible. Ramirez told KSAT the water should be fine to drink as soon as today.
Published by Medicaldaily.com