Dementia Action Plan: Drugs, Diagnosis, And Stigma Addressed At G8 Summit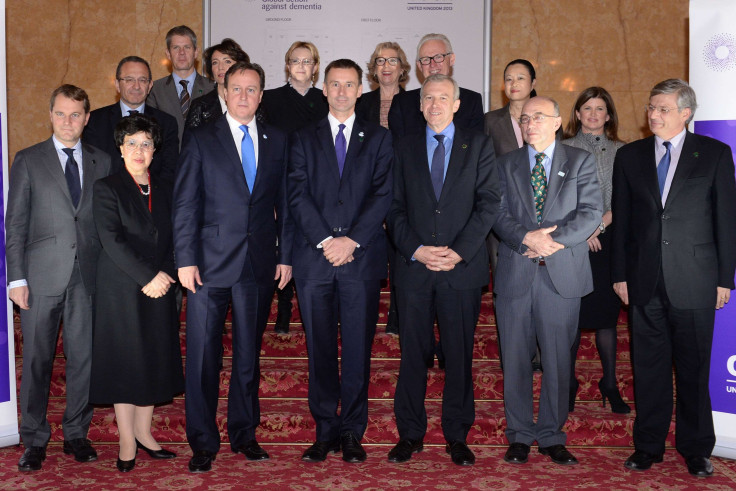 "One in three of us will get dementia." Jeremy Hunt, UK Secretary of State for Health, made this sobering prediction today at the G8 Dementia Summit. His calculations align with current World Health Organization (WHO) estimates of 35.6 million people living with dementia, a number that is expected to double by 2030 and more than triple by 2050. Meeting today in London, health ministers from the G8 industrialized countries addressed their concerns regarding this escalating global problem. In his talk, Hunt outlined three areas of action he hoped to address: drugs, diagnosis, and stigma.
Specifically, he expressed the wish to find a drug that can halt or reverse the brain decay caused by dementia. To that end, Alzheimer's Research UK, the country's leading dementia research charity, has launched the Drug Discovery Institute for neurodegenerative diseases in the hopes of accelerating progress towards treatments. In particular, the institute hopes to forge a link between fundamental research into neurodegenerative diseases that cause dementia and real patient benefits. In support of this and other measures intended to increase scientific knowledge, Hunt noted that the British government will be increasing annual funding of dementia research to the equivalent of about $108 million by 2015.
Highlighting the need to improve diagnosis rates, Hunt noted that less than half of dementia patients in the UK get a diagnosis. Because a diagnosis can lead to medicine, family support, and lifestyle changes, this step was essential to improving conditions. His plan to boost diagnosis rates includes making sure doctors give 65 to 74-year-olds information about memory services, while also referring them for assessment if necessary. Additionally, the government will launch a new toolkit to help health care providers offer better support.
Finally, Hunt supported efforts to fight the social stigma of dementia. Once cancer was an unspoken disease, he noted, yet greater visibility led to improvements in treatment. For this reason, it is time to make dementia "normal" in order to deconstruct barriers to diagnosis and care.
"As life expectancy goes up, our generation has a unique challenge: will those extra years at the end of our lives be ones we can look forward to with anticipation — or will they be ones we end up dreading?" Hunt asked. Other speakers at the G8 Dementia Summit included Dr. Margaret Chan, director general of WHO, Yves Leterme, deputy secretary general for the Organization for Economic Co-operation and Development (OECD), and Peter Dunlop, a patient living with dementia.
Dementia is usually progressive in nature, and is caused by a variety of brain illnesses that affect memory, thinking, behavior, and the ability to perform everyday activities. Although it normally affects older people, it is not a normal part of aging; yet each year, new cases of dementia amount to nearly 7.7 million worldwide. Meanwhile, those who care for dementia patients experience physical, emotional, and economic burdens, which can be relieved, in part, by early diagnosis and interventions.
Published by Medicaldaily.com