Dentist Puts Silver Crowns on All of Four-Year-Old Girl's Teeth During a Routine Procedure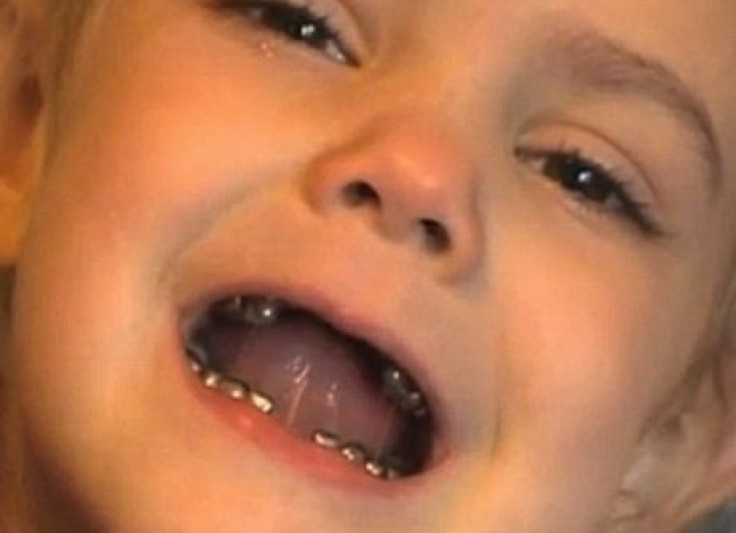 A four-year-old girl was left with stainless-steel crowns on every single tooth in her mouth after her recent trip to the dentist.
Savannah White from Phoenix, Arizona, had been taken to the dentist's office for a routine procedure on four cavities, her mother Alecia White said on Monday.
Alecia had brought her daughter to a dentist's office in Phoenix, Arizona, and stayed there with Savannah until she was sedated before leaving and waiting in the lobby.
Alecia said that after the procedure she brought her daughter home and let her take a nap.
However, the horror came after Savannah woke up and opened her mouth. Alecia said it was then she saw that her daughter's mouth had been coated in metal.
"I didn't expect for her entire mouth to be covered in silver," White told AZFamily. "We went in to have a couple of cavities done and she came out with a mouth full of silver."
Alecia, who also has a son named Zach, said that she was utterly mortified by what the unidentified dentist did to her daughter, adding that Savannah is now very unhappy with her looks.
"On a daily basis she says, 'Mommy, I don't like my teeth. I don't like my teeth,'" Alecia said, according to AZFamily. "And it's really kind of hard to hear every single day."
Reporters from local TV station 3 On Your Side consulted Dr. Richard Chaet, a pediatric dentist for more than three decades who has written guidelines for other dentists across the nation, and asked him to examine photographs of Savannah's mouth.
"I did say 'wow' because she did have a lot of silver caps on her teeth," Chaet said, according to 3 On Your Side.
However, Chaet claimed that while the little girl's teeth looked bizarre, all the silver caps lining the inside of her mouth were necessary. After closer inspection, he found that the dental work had been necessary because of the level of deterioration.
Savannah's teeth had later been capped with white veneers so that she would not be self-conscious about the way she looked.
Experts say that the best was to prevent having unsightly silver crowns is to practice and encourage a high level of oral hygiene. Children should be taken to the dentist on their first or second birthday, according to The American Dental Association. Parents should also avoid giving children sugary drinks like sodas and fruit juices, which can cause deterioration.
Published by Medicaldaily.com