Detroit Tigers Pitcher Francisco Rodriguez Contracts Zika Virus While Home In Venezuela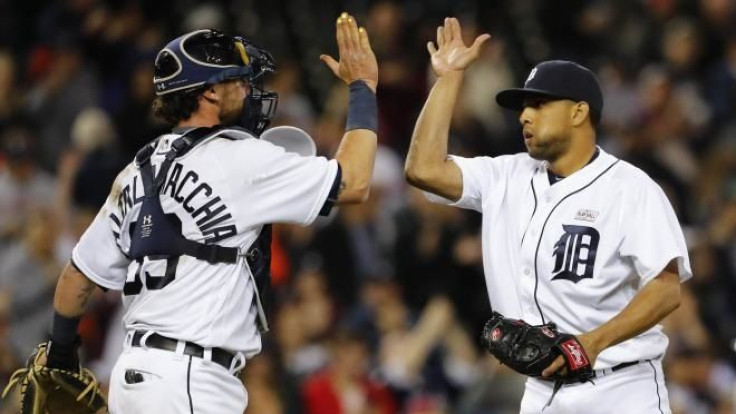 Detroit Tigers pitcher Francisco Rodriguez has revealed that he contracted the Zika virus while home in his native Venezuela during the Major League Baseball offseason. When asked about the upcoming 2016 Summer Olympics in Rio de Janeiro and athlete safety, Rodriguez said he would be sympathetic to anyone who would wish to skip the games, especially if they plan on having children.
"I wouldn't blame them," Rodriguez told ESPN. "If they have plans to have kids in the future, you've got to think about it. You have to be aware of that as well. You have to do some homework, some research about it."
Public health experts have been working frantically to stop the spread of the Zika virus and to understand it. Scientists from the Centers for Disease Control and Prevention recently confirmed that Zika can result in microcephaly, a birth defect in which an infant's head is much smaller than normal. On Tuesday, a baby with microcephaly was delivered by doctors at Hackensack University Medical Center in Hackensack in New Jersey.
Rodriguez said that the initial symptoms he experienced seemed to be consistent with a cold. However, he knew something was wrong when the symptoms, including body aches, headaches, nausea, and general weakness, got worse and persisted past a week. Although he was bedridden for two weeks, he said it took an entire two months before he felt 100 percent again.
"It wasn't a cold, trust me," Rodriguez added. "It wasn't a cold. A cold, you have a sneeze, have a headache, take a couple Tylenol and you're done. You don't have a cold for two weeks, you don't have a bodyache for two weeks, you don't have headaches, throwing up, weaknesses for two weeks." A blood test revealed that Francisco was, in fact, experiencing symptoms of Zika.
Just last Friday, 150 doctors, scientists, and researchers penned an open letter recommending that the Olympic Games in Rio either be postponed or moved to another location. The letter not only expressed concerns for competing athletes, but also for the fans and tourists who will be coming from all around the world.
"The Brazilian strain of Zika virus harms health in ways that science has not observed before," the letter reads. "An unnecessary risk is posed when 500,000 foreign tourists from all countries attend the games, potentially acquire that strain, and return home to places where it can become endemic."
Earlier this week, Chicago Bulls forward Pau Gasol announced that he would consider not playing in the 2016 Summer Olympics in Rio due to the spread of Zika in Brazil. Gasol, who has won two Olympic silver medals with the Spanish national basketball team, said he is not the only athlete giving it some thought. Others to voice similar concerns include tennis player Serena Williams and Australian golfer Adam Scott.
Published by Medicaldaily.com