Diane Nyad, 64, Completes Historic 53-Hour Swim Across The Florida Strait Without Shark Cage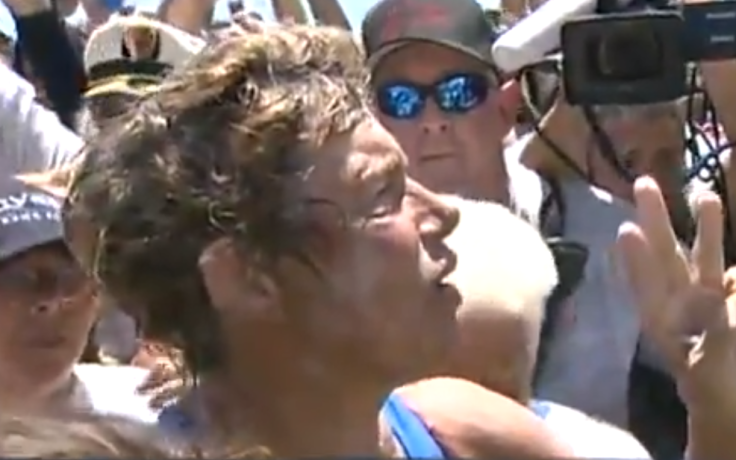 On Monday, long-distance swimmer Diane Nyad completed an historic 53-hour swim from Cuba to Florida. NBC reports that the 64-year-old's astounding feat of endurance makes her the first swimmer to cover the 110 miles without a shark cage or flippers. At around 2pm, she waded ashore to standing ovations, exhausted and weather-beaten after two-and-a-half days at sea.
"This is a lifelong dream of mine and I'm very very glad to be with you. Some on the team are the most intimate friends of my life and some of you I've just met," she wrote on her blog earlier this morning. "But I'll tell you something, you're a special group. You pulled through; you are pros and have a great heart. So let's get going so we can have a whopping party."
The triumph represents Nyad's fifth attempt to cover the distance since 1978. Last time, her efforts were foiled by a brood of box jellyfish –– one of the deadliest organisms in the world. This time, she came equipped with gloves, boots, and a face mask designed to protect her against the lethal invertebrates.
Thanks to regular updates from an attending flotilla of handlers, friends and fans were able to track Nyad's journey online. Sunday's posts suggested high spirits as the 64-year-old entered the final stretch.
"This is farther than she has gone in any previous attempt. Her path is only 5 miles to the east of a straight line from Marina Hemingway to Key West, thanks to a favorable Gulf Stream," navigator John Bartlett wrote. "We are just approaching the strongest flow of the Gulfstream about 15 miles ahead of us. At that point, the flow direction will change and that will help us big time."
When she finally arrived in Key West, her tongue and lips were swollen from two days of seawater and intense sun. However, abrasions and slurred speech had little effect on her joy.
"I'm beaming with pride," she told reporters from NBC before she was taken to the local hospital for evaluation. "Never give up."
Published by Medicaldaily.com