Dolphin Attacks 8-Year-Old Girl at SeaWorld Park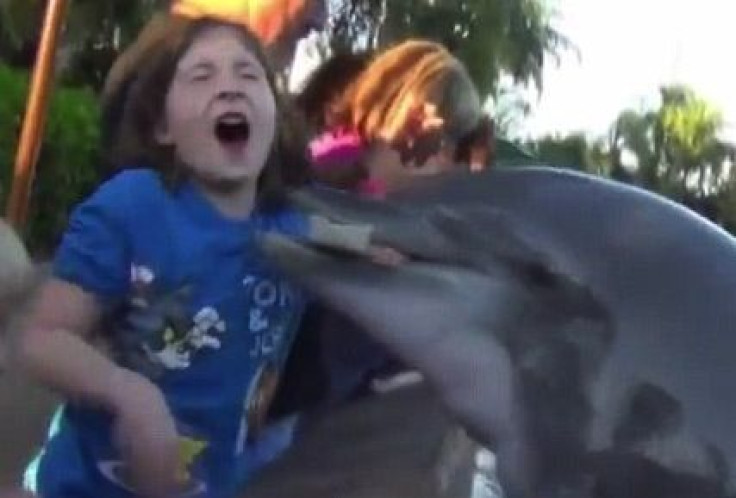 An 8-year-old girl has recounted the terrifying moment a hungry dolphin leapt out of the SeaWorld park pool and sunk its teeth into her hand, almost pulling her back into the water with it.
Jillian Thomas of Alpharetta, Georgia, told ABC's Good Morning America in an interview on Monday that while she was feeding the dolphins in the Orlando, Florida park she had raised a paper carton she was holding and "when the dolphin saw that, it leaped at me and bit me, ate the carton."
"It really, really hurt," Jillian said on the morning show where she showed hosts her three healing punctured wounds.
Jillian's father, Jamie Thomas, who was by his daughter's side at the theme park and had captured on video the moment when the dolphin had latched onto Jillian on November 21, said his reaction to his daughter being bitten was "instant fear".
"I thought that, wow, I may have to lunge at the dolphin, and pull her or, get physically involved," he recalled.
He said that after he pulled his daughter away from the dolphin tank, a SeaWorld employee had asked if the family needed help.
"They asked if she wanted first aid, and I said 'she's bleeding' so yes, we want first aid," Jamie recalled.
During the interview, Jillian had held in her arms two dolphin stuffed animals, and said that she hoped the dolphin didn't get sick from eating the paper carton and that she prays for the dolphin at night.
Paper cartons at SeaWorld are used to hold fish for visitors to feed the dolphins.
The girl's parents, Jamie and Amy Thomas, said that park visitors might not realize the risk involved when feeding dolphins, which is why they decided to post the video of the dolphin bite on YouTube so parents can decide for themselves whether feeding dolphins at the park is safe.
While their daughter's wounds are healing, Jamie said he and his wife are still upset with the way SeaWorld employees handled the incident, saying that they trivialized the severity of it.
Meanwhile, SeaWorld officials had released a statement on Sunday defending the park from criticism voiced by the Jillian's family.
"Educators and animal care staff are always on-site at this area, monitoring all interactions and are committed to guest safety," SeaWorld said in the statement.
"Educators and animal care staff were at the attraction when this happened and immediately connected with the family," SeaWorld said. "In addition, a member of our health services team was in the area at Dolphin Cove and quickly responded and treated the young girl."
"Thank God it didn't pull her in the water. It's only a matter of time before someone gets seriously injured at this attraction," Thomas wrote in a message at the end of his YouTube video.
The Thomas family admitted that they had been told not to pick up the cartons when they were done feeding, and that Jillian had made a mistake and forgot. However, they criticized the park for not enforcing the measures to prevent their daughter from being bitten.
"I felt safe," Jullian's mother, Amy Thomas, said. "Everyone just imagines dolphins as smiling, non-biting animals with knobby teeth. You forget these are wild animals," adding that she would have been more careful id she had known her daughter might get bitten.
While Jillian's family said that they do not plan on taking legal action against SeaWorld for the incident, they say they will not return to the park either.
"We think of that attraction at SeaWorld as dangerous and it was traumatic for us to go through that event," they said, according to WTVR.com.
Video: See the Moment Dolphin Latches Onto Girl's Arm
Published by Medicaldaily.com