Domestic Violence Against Men: Women More Likely To Be 'Intimate Terrorists' With Controlling Behavior In Relationships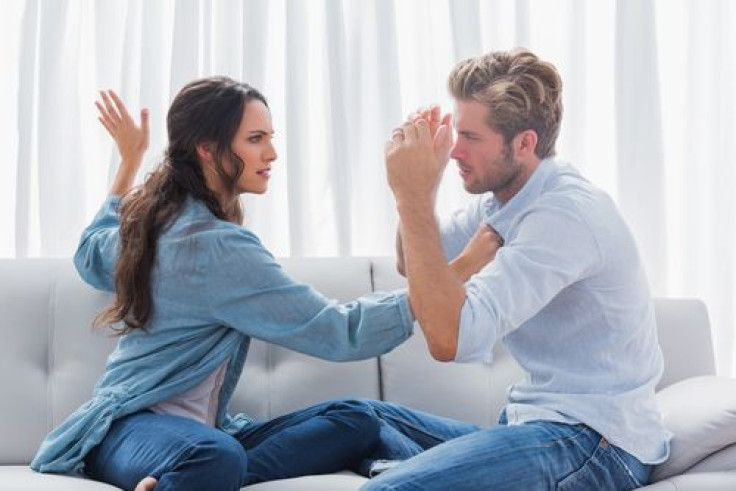 Relationships can be an emotional rollercoaster. Throughout the ride, men and women can be everything from loving and nurturing, to sometimes verbally and even physically abusive during fights. While aggression in heterosexual relationships is believed to stem from men, a recent study presented on June 25 at a symposium on intimate partner violence (IPV) at the British Psychological Society's Division of Forensic Psychology annual conference in Glasgow, found women are more likely to be "intimate terrorists," or physically aggressive to their partners than men.
Michael P. Johnson, an American sociologist coined the term "intimate terrorism," or batterers or abusers, in the 1990s to define an extreme form of controlling relationship behavior involving threats, intimidation, and violence. Men were almost always responsible for these heinous acts. This belief is further supported by statistics highlighting nearly three in 10 women (29 percent), and one in 10 men (10 percent) in the U.S. have experienced rape, physical violence, and/or stalking by a partner, affecting some form of their functioning, according to the Centers for Disease Control and Prevention.
To observe the dynamic and prevalence of intimate partner violence of men and women in heterosexual relationships, Dr. Elizabeth Bates from the University of Cumbria and colleagues from the University of Central Lancashire, conducted a survey collecting data from a large cohort of students. More than 1,000 students — 706 women and 398 men with an average age of 24 — responded to the questionnaires. The students were asked about their physical aggression and controlling behavior to partners, and to same-sex others, including friends.
The findings revealed just as many women as men could also be classed as abusive, coupled with controlling behavior with serious levels of threats, intimidation, and physical violence. Women were more likely to verbally and physically aggressive to their partners than men. "This study found that women demonstrated a desire to control their partners and were more likely to use physical aggression than men. "It wasn't just pushing and shoving," said Bates, Medical Xpress reported. Some of the survey respondents circled boxes for things like beating up, kicking, and even threatening to use a weapon.
However, when it came to terms of high levels of control and aggression, there was no difference between men and women. There was a higher prevalence of controlling behavior seen in women than men, which was found to significantly predict physical aggression in both sexes. In other words, the more controlling behavior a woman displayed, the more likely she would an "intimate terrorist," or physically aggressive to her partner.
"This was an interesting finding. Previous studies have sought to explain male violence towards women as rising from patriarchal values, which motivate men to seek to control women's behavior, using violence if necessary," Bates said. This suggests IPV may not be motivated by patriarchal values, and should be further studied with other forms of aggression. The stereotypical popular view, although still dominant, is being challenged by research over the last ten to 15 years, shedding light on male domestic violence.
Mark Brooks, chair of the ManKind Initiative in the U.K., which offers support for male victims of domestic violence, believes Bates' study is "game changing." "At the charity we're not surprised at the findings, because of the type of calls we get to our helpline every day," Brooks told The Telegraph. "What concerns us still is the lack of awareness and services available to support those men suffering in this way."
It is no surprise that the media and government in the U.S. and throughout other parts of the world, people focus most attention on the female victims of domestic violence and, consequently, men are the overlooked victims of domestic violence. According to the National Coalition Against Domestic Violence, men and boys are less likely to report the violence and seek services due to several challenges such as the stigma of being a male victim. Sixteen percent of adult men who report being raped or physically assaulted are victims of a current or former spouse, cohabitating partner, boyfriend/girlfriend, or date.
Source: Bates E et al. Women more likely to be aggressive than men in relationships. British Psychological Society's Division of Forensic Psychology annual conference in Glasgow.
Published by Medicaldaily.com