Expert Advice: Two Masks Are Better Than One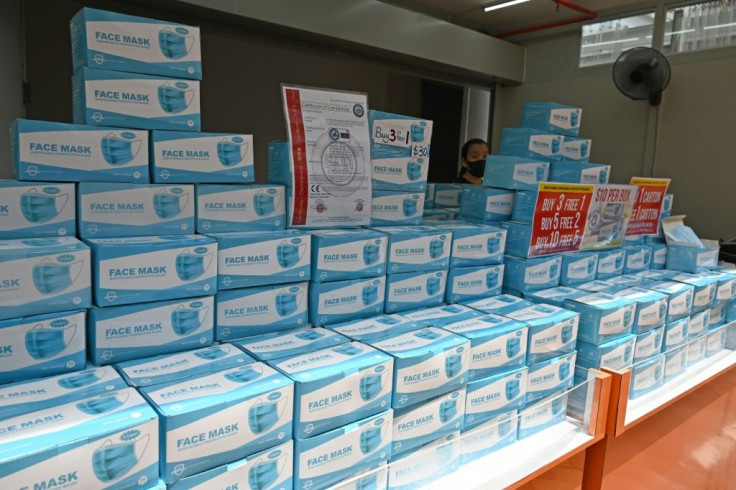 Many people have adjusted to the new normal -- checking for keys, wallet and mask before leaving the house. Now, that might be changing a bit. Instead of one mask, people are reaching for two. Anthony Fauci, MD, endorsed the trend of double masking to NBC's Savannah Guthrie. "If you have a physical covering with one layer, you put another layer on, it just makes common sense that it likely would be more effective..." said Dr. Fauci.
People tuning in to the 2021 inauguration of President Joe Biden might have noticed the number of double masks, notably on Pete Buttigieg, US Secretary of Transportation, and Amanda Gorman, the poet laureate.
But, is it necessary to start layering up?
Seeing Double
A mask has no magical properties, it works due to physics. Monica Gandhi, MD, a professor of Medicine at the University of California, San Francisco co-authored a paper on masking with colleague Linsey C. Marr, PhD. In it, she explained that the mask is not "catching" particles like a colander catches pasta, instead, it is slowing them down relative to the air they are being carried along in. This lets air in and out and keeps droplets caught in the mask.
Dr. Gandhi supports multiple layers in a mask. Here is where double masking comes in. " For maximal protection...members of the public can either (1) wear a cloth mask tightly on top of a surgical mask...or (2) wear a three-layer mask with outer layers consisting of a flexible, tightly woven fabric...and a middle layer consisting of a non-woven high-efficiency filter material…" she explains in her paper published in December in the journal Med.
Double masking does two things; it can improve the overall fit and reduce gaps, but it also adds an extra layer.
Something like an N-95 would accomplish the same thing. They are made of a special material and are tight-fitting. In a tweet from October of last year, Esther Choo, MD, PhD, explained why she double-masked even with an N-95.
N-95s provide excellent protection and don't require a second layer in the same way a surgical mask might. Dr. Choo is an emergency physician and a professor at the Oregon Health & Science University .
Upgrading it
People who are interested in moving to a single, triple-layered mask need look no farther than the mall, where retailers like Old Navy are selling three-layered masks. Of course, the best three- layered mask has a filtering layer, and people can upgrade their current masks by adding a surgical mask underneath, or something like a coffee filter to add that coveted third layer. Masks can also be found on websites like Etsy, or other online retailers.
Not for everybody
Just because there are good reasons to double mask doesn't make it a good idea for everyone. Carl Cameron, MD, chief medical officer at MVP Health Care, an insurer in New York and Vermont, explained in an interview with Martha Stewart that fit and comfort are also important. "If wearing two masks provides a worse fit than one well-fitted mask, it could create a poor seal around your nose and mouth and lower your protection," he explained. Dr. Cameron also noted that if the two masks make breathing more difficult or are just uncomfortable, these reasons could cause people to touch their faces even more, which is a known way of contracting the virus, as the virus can enter mucous membranes in the eyes, nose and mouth.
Many health experts seem to agree: one really good mask is okay but two masks, especially one surgical and one homemade, are probably a good idea in some settings.
Dr. Jha is the dean of Brown's School of Public Health.
Dr. Gandhi, in a tweet, subs tantiated this. "May I clarify "double masks?" Our exact recommendation was either N-95 (hard to get, uncomfortable, must be fit tested) versus surgical + cloth together versus one cloth mask with a filter in-between 2 layers (like vacuum bag) & not always," she explained, specifying that these guidelines were for "vulnerable individuals" or in particular situations, like being in a crowded indoor area. "There is still [a] role for basic masks and only maximal when needed," she continued, warning against layering more than two masks. More masks does not mean better, and too many masks could make them too impractical.
But what about the variants?
Variants of the original SarsCoV-2 virus have been making the news, and some are more infectious than the original virus. This is driving some of the double masking. "I started doing the double masking when I started getting a little bit smarter about the [new] variants," Lindsey Leininger, PhD. told Slate . Dr. Leininger, public health expert, is a professor at Dartmouth's Tuck School of Business.
It comes down to fit
A mask is only as good as the fit. Wearing a well-fitting, tie-in-the-back cloth mask, with a surgical mask beneath it, is worthy of becoming a member of the Covid-19 prevention classics: limiting contact, social distancing, and handwashing.
Sabrina Emms is a science journalist. She got her start as an intern at a health and science podcast out of Philadelphia public radio. Before that she worked as a researcher, looking at the way bones are formed. When out of the lab and away from her computer, she's moonlighted as a pig vet's assistant and a bagel baker.
Published by Medicaldaily.com