During One of the Worst Flu Seasons in 10 Years, Manufacturers Are Running Out of Vaccines and Treatments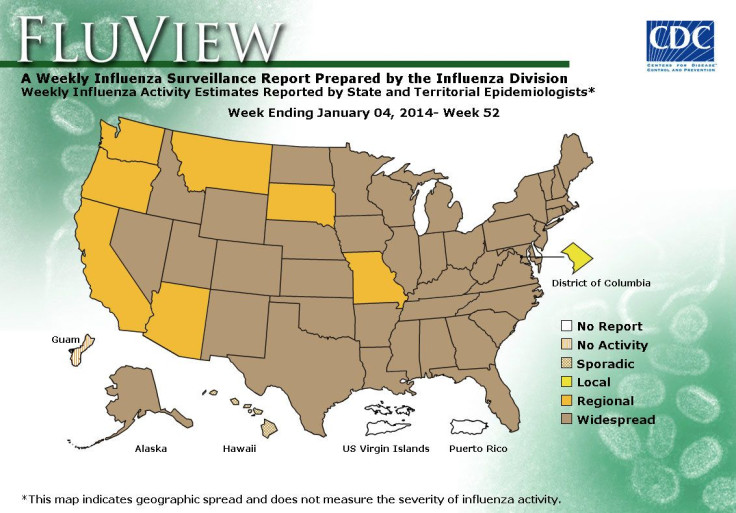 This flu season is shaping up to be a severe one. In fact, officials are calling it one of the worst in nine or ten years. The outbreak has become so devastating that Boston has declared public health emergency and drug manufacturers are reporting shortages of the flu vaccine and treatments. To make matters worse, there are still three months left in the season.
According to the Centers for Disease Control and Prevention, over half the states in the country have reported high influenza activity. Other data indicates that this flu season has struck early. However, the CDC's website still uses information from the week of December 29, 2012, and the health agency will update with more recent information tomorrow. Google Flu Trends, meanwhile, shows an even more dire picture. The tracker, which monitors the information from search results related to the flu, reports that all 50 states had high or intense flu activity.
Last year, during the relatively mild 2011-2012 flu season, 4,400 flu cases were reported, according to the New York Daily News. This year, that number has jumped up to 15,000 - an increase of 250 percent. Hospitalizations have skyrocketed by 169 percent as well. The outbreak has already left 18 people dead.
In the midst of more bad news, Boston.com reports that one town in the hard-hit state of Massachusetts has run out of the flu vaccine that the city was giving out for free. Somerville's mayor Joseph Curtatone said that he would like for the city to receive a greater supply.
That might be hard to find. Drug manufacturer Sanofi SA, the largest flu vaccine maker in the United States, has sold out four of the six formulations of its popular Fluzone seasonal flu vaccine, according to Reuters. Roche Holding AG also said that it was running low on the liquid variety of Tamiflu, which is typically given to children. The company said that parents could dissolve solid Tamiflu in a sweet beverage to administer the drug to their kids.
The good news is that the predominant strain of influenza, H3N2, is well-suited to this year's flu shot, if you have already gotten yours. Another prominent strain is influenza B, which can also be adeptly managed by this year's vaccine. The H1N1 strain, which caused a pandemic during the 2009-2010 flu season, has also been reported.
Health experts suggest you should exercise, eat healthy foods, and avoid contact with people who are coughing and sneezing. If you do become sick, avoid the emergency room; there is generally little that they can do for a viral infection. Get a lot of rest, ingest a lot of liquids, and know that a fever as high as 103 degrees Fahrenheit is normal for the flu. Of course, people with severe cases, suffering from nausea or shortness of breath, should seek medical attention immediately.
Published by Medicaldaily.com