Easy Tips To Stay Healthy While Vacationing: Water Down Drinks With Seltzer, Beach Running, And More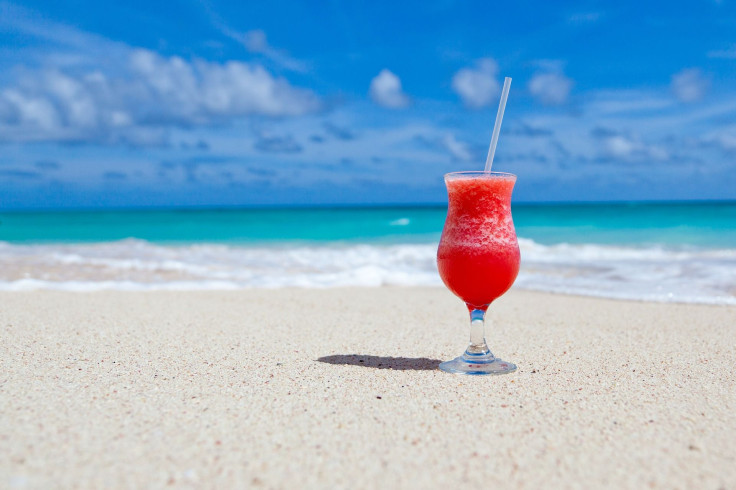 Summer is on its way and you might already be planning that beach trip. While traveling is known to foster creativity and help you recharge, it also comes with some not-so-healthy aspects, too. Vacations are a time to relax and indulge, which means you'll likely consume more calories and alcohol while spending less time at the gym.
Read: Yes, Listening To Nature Really Will Help You Relax
This graphic from Fix.com explains how you can enjoy your time away while still maintaining your healthy habits. Beverages are a major culprit of excess calories, however, this is an area that's easy to make smart choices. Ashley Aucoin, post author, recommends adding fruit to your drink and watering it down with seltzer or soda water. Or, opt for a martini as they are a naturally low-calorie cocktail.
Burning calories is just as important as saving them. You don't have to hit up your hotel's gym, although you can if you want, as there are other ways to stay active on vacation. Aucoin says that many hotels or resorts offer on-site activities like water polo or aerobics, dance classes, snorkeling or even beach volleyball (this can easily be done on your own with other resort guests).
If you're staying somewhere without activities, it's easy to create your own workout. Aucoin has offered a full body workout that will help keep you in shape. But if the idea of doing push ups in the sand is less than appealing, you can always try barefoot running. According to Aucoin, the sand helps you burn up to 80 extra calories per mile.
Read: Morning People Have Healthier Diets, Plus 3 More Reasons To Get Up Earlier
Of course working up a sweat in the sun can be dangerous and you should always wear SPF, stay hydrated and avoid being outdoors during the hottest part of the day.
For more tips, check out the graphic:

Source: Fix.com Blog
See Also:
Dancing Will Keep Your Brain Young, Says New Study Of White Matter​
How To Feel Less Stressed: Eat More Fruits And Veggies, Says Study
Published by Medicaldaily.com