Exercise May Help Protect The Aging Brain From Alzheimer's And Other Forms Of Dementia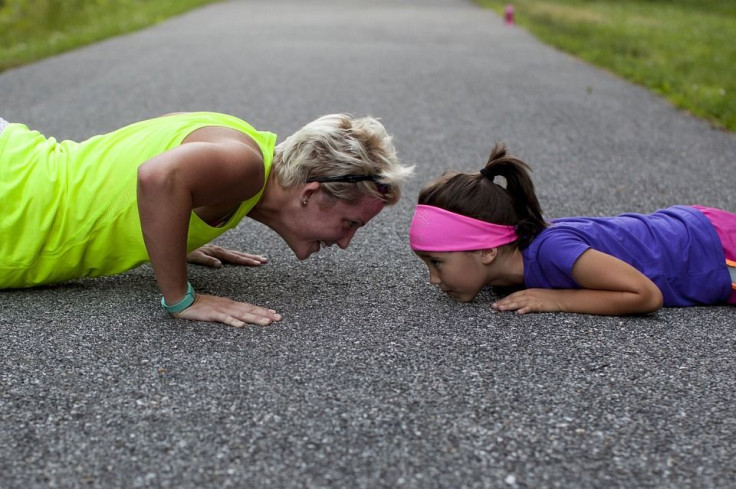 We're all aware that exercise is good for us. Aside from weight loss, it boasts many mental benefits, such as an improved mood and a burst of energy. Now, new research shows it may even help protect the brain.
In a review of the literature, published in BMC Public Health, researchers confirmed that being more active is associated with a smaller chance of developing Alzheimer's disease. They also found that people who already have the disease may benefit from exercise too: adults who are physically active may experience improved daily activity, cognition, and balance.
Read: Childhood Alzheimer's: Parents Raise Funds To Save Daughters With Rare Genetic Disease
"As there is no current cure for Alzheimer's, there is an urgent need for interventions to reduce the risk of developing it and to help manage symptoms," study author Kathleen Martin Ginis said in a statement.
Ginis and her team at the University of British Columbia Okanagan Campus reviewed data from more than 150 research articles that looked at how exercise affects Alzheimer's.
"After evaluating all the research available, our panel agrees that physical activity is a practical, economical and accessible intervention for both the prevention and management of Alzheimer's disease and other dementias," said Ginis.
Ginis expressed the excitement of her team's findings. "From here we were able to prepare a consensus statement and messaging which not only has community backing, but is also evidence-based. Now we have the tool to promote the protective benefit of physical activity to older adults. I'm hopeful this will move the needle on this major health concern."
Read: Health Benefits Of High-Intensity Exercise: HIIT Fights The Aging Process In Older Adults, Study Finds
In their paper, the authors note that one of the limitations of their work is that a majority of the research papers included in their review used the broad term "dementia." This word is used as an umbrella term, which Alzheimer's falls under. Other types of dementia are Parkinson's disease and Huntington's disease. Alzheimer's is the most common form of dementia. It affects more than 5 million Americans and is expected to affect as many as 16 million by the year 2050, according to the Alzheimer's Association.
Some researchers believe exercise is protective because it preserves your brain's old network connections and makes new connections that work to maintain healthy cognition. In a year-long study, older adults who walked daily for 40 minutes were shown to have improved brain connectivity involved with daydreaming, envisioning the future, and recalling the past. The adults also exhibited improved organizational and planning skills, according to the National Institute on Aging.
Although this study is one of the many pieces of promising evidence, it's important to note that more research needs to be conducted to better understand exactly how exercise protects against memory loss and improves cognitive function.
See also: 6 Ways Learning Like A Child May Fight Brain Aging, Plus Learning Tactics To Avoid
Why Americans Have A Lower Life Expectancy, From Increasing Rates Of Heart Disease To Alzheimer's​
Published by Medicaldaily.com