Experimental Study May Eliminate Male Infertility In Pediatric Cancer Survivors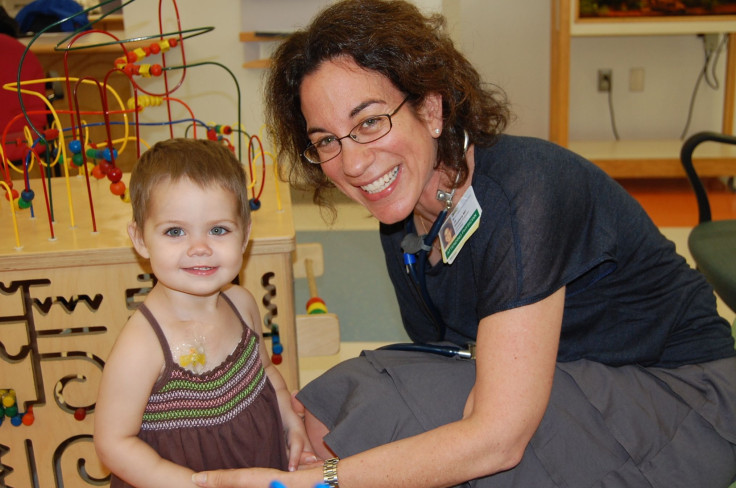 At only 11 years old, Sam Hornikel has undergone multiple surgeries to remove his prostate, urethra and two-thirds of the bladder, not to mention the three rounds of chemotherapy he endured as a toddler.
Read: Could A Hormone Replace Egg Freezing? New Discovery Could Aide In Fertility Treatments
"My son is actually a very interesting, very rare case," Sam's mom, Erin Hornikel, tells me. In June 2008, Sam was diagnosed with rhabdomyosarcoma, a type of cancer found in muscle tissue, in this case the bladder and prostate. He was only two years old.
Doctors at the Children's Hospital of Philadelphia (CHOP), where Sam received treatment, were shocked by his condition. A grapefruit-sized tumor had grown in the child's prostate and came up to the bladder. The team at CHOP hoped chemotherapy would shrink the mass down to the size of a golf ball, so it could be surgically removed, however, the tumor remained softball-sized. Doctors then performed a drastic surgery which left the child in a diaper until he received an augmented bladder at six years old.
Sam and other patients who receive chemotherapy when they are young face one other potential side-effect of the treatment - infertility. An oncologist at CHOP, Dr. Jill Ginsberg, is now doing experimental research that may restore fertility to patients like Sam. The procedure she and a team are working on involves a testicular biopsy which could be later transplanted back into the patient.
While no mother is thinking about being a grandparent during her child's cancer diagnosis, that desire may pop up on her son's wedding day, when he buys his first house, or a hundred other moments. Dr. Ginsberg hopes that when the time comes, she'll have a solution for Erin and Sam, provided he actually wants children.
The director of the cancer survivorship program at CHOP, it's Dr. Ginsberg's job to let every young patient's family know about fertility options, a topic Erin believes must be hard to broach with grieving parents.
But through her research at the hospital, Dr. Ginsberg discovered it was important for families to be proactive. In fact, the oncologist recommends that all pubescent boys store pre-chemo sperm in banks, even if their chances of infertility are low.
"We know from our survivorship work that infertility is a huge quality of life issue for our survivors," says Dr. Ginsberg.
Insurance typically covers the cost of the procedure and families only pay a few hundred dollars a year in storage fees. The hospital partners with a clinic that accepts payment on a sliding scale to make it affordable for everyone.
The doctor mainly focused on pre-teen and teenaged boys as the only option is in sperm banking. It wasn't until she presented research before colleagues that she was inspired to find a solution for younger patients.
Read: 3-D Printed Ovaries Show Promise As New Fertility Treatment For Cancer Patients
"Ok, that's great, but what are you going to do about the prepubertal boys?" Dr. Ginsberg recalls someone asking. "And I hadn't really thought about it to be honest with you."
After doing research, she learned that just two blocks away at the University of Pennsylvania, Dr. Ralph Brinster had been able to restore male fertility in animals. The two connected and are now working to create a treatment option that will work for people.
The procedure involves a testicular biopsy performed in conjunction with an already planned operation (that way the child is only under general anesthesia once). Part of the biopsy is frozen and stored, much like sperm, and researchers take the remaining tissue to do lab work. Currently, they're working to expand the cells since tissue was taken from little patients who have very small quantities. The thinking is that it could be transplanted back when the boys want to start families.
"If you're able to prove that you can make millions and millions of cells, then when they're ready, you would be able to retransplant the cells into the patients to see if it restores sperm-making ability," explains Dr. Ginsberg.
However, researchers are still working on that first hurdle and there's some very basic science that needs to be done before it can be tested in humans. The doctor is very clear that there are no guarantees with this study. "The hardest part of this research is that it's still very experimental," she says. "What we're going to do with the tissue in the future hasn't exactly been worked out."
But all of the boys are really young, so Dr. Ginsberg and her team have time before anyone's ready to have children. In the meantime, she hopes to receive additional funding as this kind of work receives little support compared to research directed at curing cancer. The study has been funded through a consortium grant provided by St. Baldrick's Foundation, a nonprofit aimed at conquering childhood cancers.
Despite the challenges Dr. Ginsberg and her team face, just knowing there's a chance Sam could have children one day gives Erin a lot of hope.
"When he was diagnosed, there was a thought in the back of my head that he's not going to live," she says. "To think that he's going to have a future and possibly have children is just the best thought in the world."
The 11-year-old has been cancer-free for seven years, and aside from dealing with the complications of having an augmented bladder, Sam is like any other child. He plays with his little brothers, Nathan, nine, and Daniel, five, and enjoys games of street hockey with friends or swimming. Erin looks forward to watching Sam navigate the typical milestones we associate with growing up, such as marriage and having children, which previously seemed out of reach.
Despite the shock of hearing about her son's illness, being approached by Dr. Ginsberg the day of his diagnosis provided a lot of hope then too.
"I was always impressed that they were looking to my son's future as if he had one," says Erin. "And to me that was such a great feeling that I could look past at the horrible thing that was happening right in front of me, and I could look to his future."
See Also:
Cells Taken From Abdominal Fat, Injected Into Penis, Helped Men Have Penetrative Sex Following Prostate Cancer
Birth Control Could Lower Risk For Certain Cancers, Protect Women Up To 30 Years After Taking Pill, Study Says
Published by Medicaldaily.com