FDA Finds Fungus in Steroid Shots, Meningitis Toll Rises to 20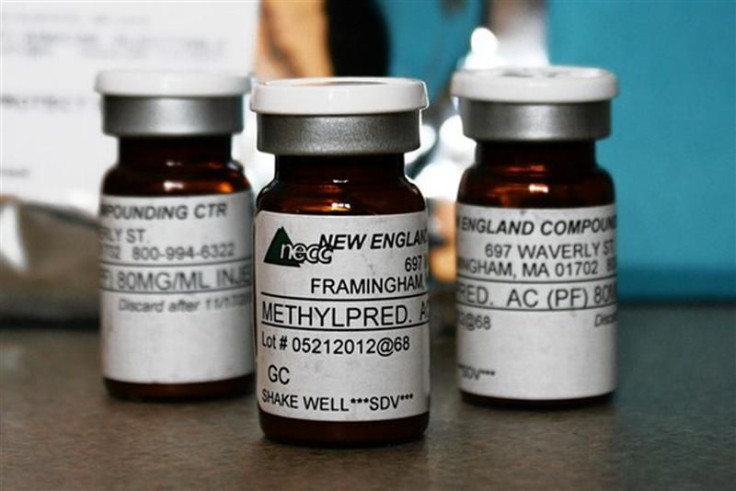 U.S. health officials made their first confirmation of the presence of a deadly fungus in one of three lots of steroids tied to a national meningitis outbreak as the death toll rose to 20 on Thursday.
The U.S. Food and Drug Administration said it was still testing two additional lots of methylprednisolone acetate, the steroid used to treat back pain, for the presence of the rare Exserohilum fungus. It is also testing other injectable drugs that were supplied by the New England Compounding Center, or NECC, in Massachusetts.
"Now we can definitively say that the injections are linked to the infection," Dr. Tom Chiller, an epidemiologist with the U.S. Centers for Disease Control and Prevention, told Reuters in an interview. "To date, CDC has no firm evidence of infection in any patients beyond those exposed to the contaminated lots."
THE CDC said the death toll climbed by one to 20, while nine new cases brought the national total to 254, including the first in New York - the 16th state with confirmed infections.
Michigan reported its fourth fungal meningitis death and new cases were also reported in Indiana, New Hampshire, New Jersey, Ohio and Tennessee. There are also three cases of peripheral infections in joints, the CDC said.
"There were a lot more spinal injections performed versus joint injections, but the infection rate may also reflect the fact that joint infections might be slower or the incubation period could be longer ... we just don't know," Chiller said.
About 14,000 patients are believed to have been exposed to the potentially tainted NECC steroid and some 97 percent of them have been contacted so far, the FDA and CDC said.
NECC issued a statement saying it was "earnestly focused on determining, along with these agencies, the cause of contamination in vials of this product - and to rapidly and professionally carry out a recall to remove all NECC products from circulation."
U.S. doctors in Baltimore said early diagnosis and treatment of patients at risk of fungal meningitis was vital, based on the case of an otherwise healthy woman who declined rapidly after receiving steroid injections for neck pain.
Writing in the Annals of Internal Medicine, researchers at the Johns Hopkins School of Medicine described the deterioration of an unidentified 51-year-old who sought care in an emergency room for a severe headache a week after receiving an injection with tainted medication on August 31.
The CDC has said it learned about the fungal meningitis outbreak on September 21 and that it contacted patients injected as far back as May.
Patients found to be infected are treated with a fairly high dose of voriconazole, sold by Pfizer Inc under the brand name Vfend, which can cause side effects including "visual disturbances," fever and headache.
"We are finding a fair amount of toxicity," Dr. Carol Kauffman, infectious diseases chief at the University of Michigan Health System, said during an infectious disease and epidemiology conference in San Diego. "We don't want to have 80-year-olds hallucinating. That's indeed what is happening."
CONTRACTS UNDER SCRUTINY
NECC is under investigation by federal authorities over how it supplied hospitals, clinics and other healthcare providers with large orders of drugs, including whether it violated state laws regulating pharmacies.
U.S. Senator Richard Blumenthal Of Connecticut, who previously called for a criminal investigation of NECC, raised new questions on Thursday about a government contract for medications from NECC's sister company, Ameridose.
In a letter to the U.S. Department of Defense, he cited a July purchase agreement for specialized medicines between the U.S. Army Medical Command and Ameridose. They were intended for use in the neonatal intensive care unit at the Army's Tripler Medical Center in Honolulu.
Most of the meningitis cases have been linked to Exserohilum, a fungus associated with grass and rotting wood that appears to be especially aggressive in attacking tissues in the spine and brain stem.
Fungal infections typically only attack people with severely compromised immune systems, such as patients who have had bone marrow or organ transplants.
In the case described by the team at Johns Hopkins, the injection was the woman's first and she had no medical history of having a compromised immune system, nor was she taking any long-term medications.
Doctors found nothing and sent her home, but the woman returned the next day with more severe symptoms and was admitted to the hospital, where she was treated with a series of antibiotics and other drugs.
Tests for a host of infections were all negative. The woman died 10 days after being admitted to the hospital, the same day the team found evidence of Exserohilum in her spinal fluid. An autopsy showed massive tissue death in the brain stem, inflammation in the blood vessels and evidence of a stroke.
Based on the case, the researchers urged doctors to be aware of the symptoms of fungal meningitis and to seek rapid diagnosis and treatment to prevent "serious complications and deaths."
The CDC advises patients who feel ill and are concerned they were injected with one of the recalled products to contact their physicians.
On a call with healthcare providers earlier this week, the CDC said the typical incubation period was one to four weeks after injection, but that it could be two months or longer.
"We want you to remain vigilant for several months after injection," Chiller told physicians.
Symptoms of fungal meningitis include new or worsening headache, fever, sensitivity to light, stiff neck, weakness or numbness in any part of the body, slurred speech, increased pain, redness or swelling at the injection site.
@ 2012 Thomson Reuters. All rights reserved.