Fitness Model Mom's Viral Photo Shows That Mothers Can Be Pregnant And Fit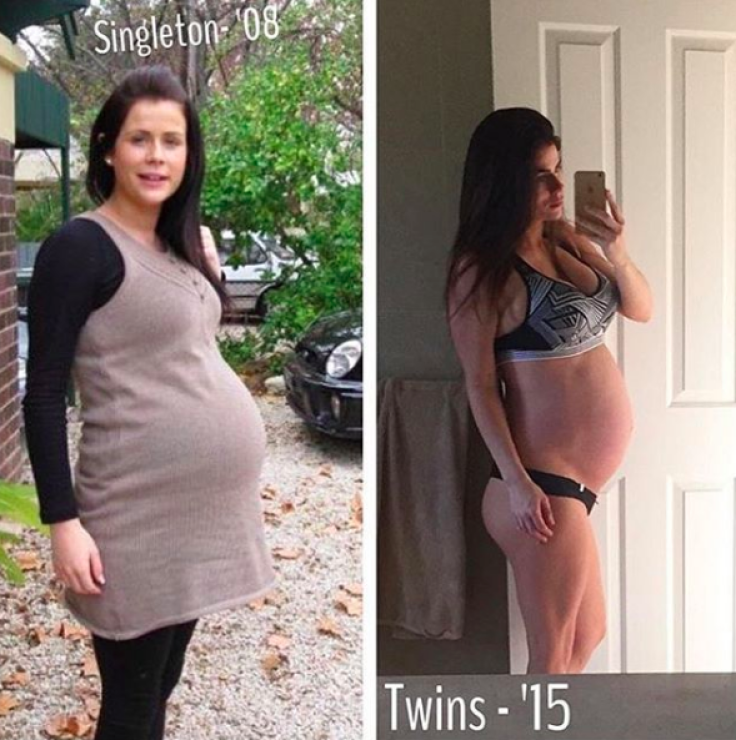 You may remember the outrage over CrossFit Mom and Fit Mom, among other expectant or postpartum mothers who were on intense exercise, diet, and even weightlifting plans. While it may be concerning at first to see a pregnant woman with a big belly lifting heavy weights, it turns out that there are healthy and safe ways to do it — and perhaps 27-year-old Sophie Guidolin, another weightlifting pregnant mom, is a good example.
In an Instagram post she recently shared from last year, Guidolin explains two side-by-side pictures that compare her single pregnancy in 2008 to her current, fit pregnancy with twins. The difference is pretty remarkable; while she looks leaner and has less of the "pregnant glow," her muscles and strength are also more visible in her second photo.
Guidolin's "fit" photo on the right is from 2015, and both her twins were born healthy. Both of the photos were taken at six months. And Guidolin certainly is prepared to answer the naysayers who tear at her for endangering her child, because if weightlifting and workouts are done properly with the guidance of trained medical staff, they can actually benefit both mother and child.
"A lot of people express concern over women exercising in pregnancy and I 110 percent understand why," she wrote on Facebook. "There are so many myths, old wives tales and opinions out there… In my opinion, listen to no one except your qualified and trusted medical staff… Each pregnancy is different & exercises that I or anyone else may be doing may not be safe for your body to perform." It also helps that her husband is a dietitian and personal trainer who helps her stay within her obstetrician's guidelines.
Research has shown that exercising during pregnancy — in safe, guided ways — is beneficial for both the mother and baby. It helps to protect against excess weight gain, and even lower pelvic girdle pains during the end of term. Plenty of women have done yoga, weightlifting, and even gymnastics safely while pregnant.
Today, the mother of four continues to post about her workouts, diet, and meal prep, hoping to encourage other mothers to do the same. "I wanted those mums out there to know that it IS possible," she wrote in a Facebook post. "You can make a change even after kids, or whilst you're pregnant. Being healthy, fit, and active is an everyday decision." Perhaps the most valuable piece of advice Guidolin offers is that she doesn't have time to exercise — she makes it.
Published by Medicaldaily.com