Flavored Cigars Rising In Popularity Among Younger Smokers; Should They Get Stricter Regulations?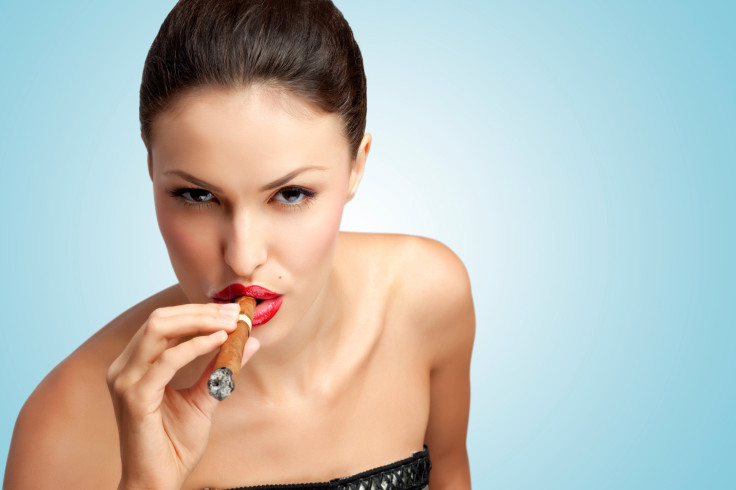 Though the smoking rate continues to fall in the United States, the consumption of flavored cigars among adolescents and young adults is rising.
A study this week from the Center for Tobacco Surveillance & Evaluation Research at Rutgers finds that 11 percent of Americans 18 to 25 years of age had smoked a cigar within the past month, even as cigarette consumption declines among youth. Young adults were significantly more likely to smoke cigars than others, with an overall cigar consumption rate of eight percent.
Center Director Christine Delnevo says the tobacco industry is winning a large market share among this age group by marketing flavored cigar products such as bubble gum and cherry. Three-quarters of the young smokers in the study said they bought brands that offered flavored cigar products.
"The cigar market is the most heavily flavored of all tobacco products," Delnevo said in a university news release. "For decades, tobacco industry internal documents have highlighted that flavors appeal to youth and young people."
With colleagues from the National Institutes of Health, Delnevo's team analyzed annual survey data on some 6,700 Americans ages 12 and older for the years 2010 and 2011. According to the Nielsen firm, revenue from cigar sales rose by 30 percent between 2008 and 2011. Sales of flavored cigars increased by 53 percent during those years, accounting for much of the rise.
By 2011, flavored cigars had reached 50 percent market share, rising from 42 percent in 2008.
"It is important to remember that youth experiment with multiple tobacco products, not just cigarettes," Delnevo told Reuters this week. "In fact, the most recent data from the National Youth Tobacco Survey show that rates of current cigarette and cigar use do not differ among adolescent males."
Although tobacco makers have sold flavored cigars for decades, the product category may be gaining popularity as young smokers seek a substitute for cigarettes following decades of social stigmatization. Ironically, such smokers are only exchanging one unhealthy carcinogenic product for another.
Delnevo and others recommend that government and health organizations redesign public health messaging to focus too on stigmatizing cigars. Brian King, an epidemiologist with the Centers for Disease Control and Prevention, says the two products are essentially the same. "Little cigars and cigarillos are the same size and shape and have similar filters as cigarettes," he said. "They are essentially cigarettes in disguise."
Although the U.S. regulators allow only menthol flavoring of cigarettes, no such restrictions exist for cigars. "A lot of times they're bubble gum or chocolate or candy flavored, and in many cases the packages are also framed in a manner to appeal to kids," King said.
The investigators implored the federal government to regulate cigars as cigarettes, a tobacco product category they describe as a "glaring loophole" in tobacco control. Most dangerously, government taxes are lower on cigars — offering a flavorful enticement to younger smokers too good to turn down.
Source: Delveno, Christine D., Giovenco, Daniel P., Ambrose, Bridget K., Corey, Catherine G., Conway, Kevin P. Preference for flavoured cigar brands among youth, young adults and adults in the USA. Tobacco Control. 2014.
Published by Medicaldaily.com