Florida Deck Collapses: At Least 24 Heat Fans Injured And 3 In Critical Condition; Cause 'Still Under Investigation'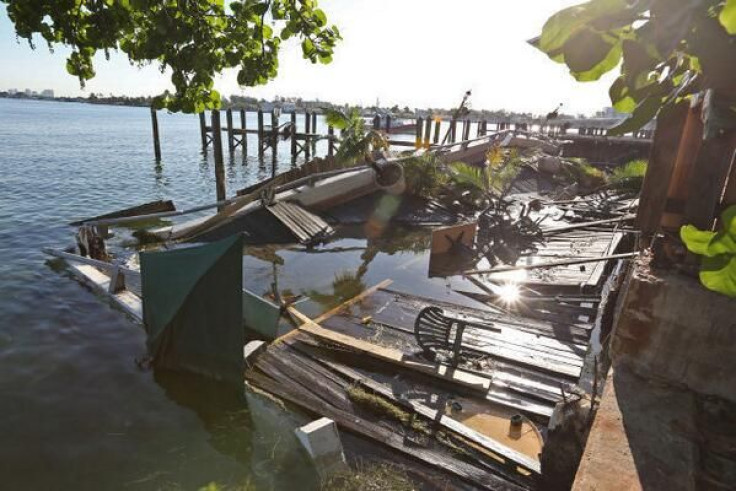 Just as fans at Shuckers Bar & Grill in Miami rose to their feet to cheer the Heat on during Game 4 of the NBA finals, the deck below them gave way, causing a collapse that sent patrons into the water and left at least three in critical condition.
"There was just a crack, and then we were in the water," Crystal Infante, a witness at the scene, told the Miami Herald. "It was really hard to get out, and you couldn't find anyone."
The bar lost power as the deck collapsed. In order to search for fallen customers, helicopters flashed light from above and divers leapt into the water. The water was shallow and as many as 100 people were on the deck when it split into a V-shape. NBC News reports that about 24 people were injured in the incident, 15 of whom were rushed to local hospitals.
"I ran inside and saw people in the water everywhere," said Ernesto Reyes, a regular patron at Shuckers on Miami Heat game days. "I started pulling out chairs and tables and helping them get out; many were in shock. They were just standing in place as if they couldn't believe what had just happened to them."
This morning, officials told reporters that they are looking into the cause of the accident. "At this moment everything is still under investigation," said interim Village Manager Jenice Rosado. "We have a building official out there at the moment looking at everything. We will have a meeting to regroup and determine where everybody is at."
When asked about the last time the deck was inspected for safety or whether it had any recent work, Rosado said that those are precisely the questions that investigators are looking into. She also noted that it will take a lot of coordination between a lot of different departments to answer the questions.
Shuckers is a staple in Miami, having been voted Best Affordable Waterfront Dining, Best Waterfront View, and Best Sports Bar. The outdoor deck and television screens make it a prime location to watch the city's most popular sports team compete to win the NBA championship against the San Antonio Spurs.
"We share our concerns for all who were injured tonight at Shuckers restaurant," Heat guard Dwyane Wade said in his postgame comments.
Published by Medicaldaily.com