Florida Family Finds Autistic Boy's Therapy Chickens Beheaded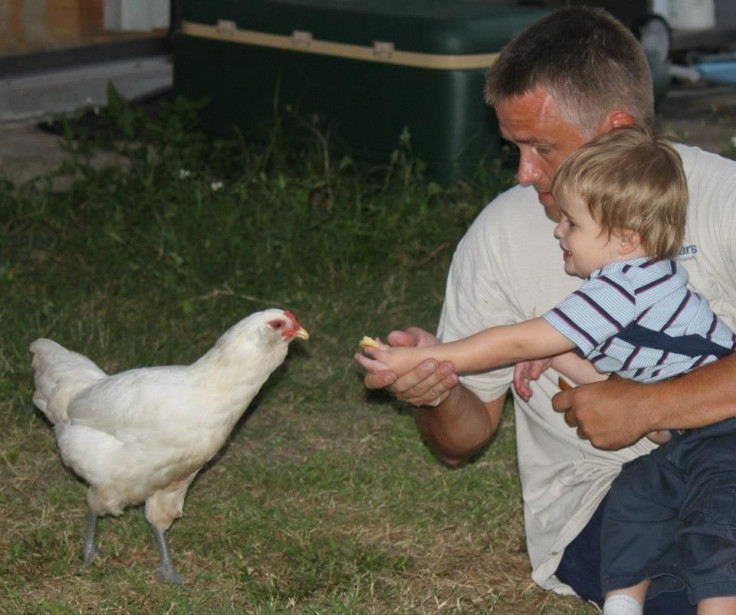 Two-year-old J.J. Hart's parents bought him therapy chickens to help him break through his autism, on a doctor's suggestion. Diagnosed with autism spectrum disorder, Hart was nonverbal. But when his parents brought home four chickens to keep in a coop, Hart's vocabulary and social skills vastly improved. After two years of not speaking, J.J. began crowing like the birds, calling them his "ducks".
But on Saturday morning, Hart's chickens were found in the backyard, beheaded. This attack came just days after the family had received a reprieve from the city for the chickens. Due to an anonymous complaint, the city had levied a citation against the family because their house is not zoned for agriculture. But the family had argued the case in front of the city, staving off a $100-a-day fine, while they figured out what to do.
On Friday night, Ashleigh Hart, J.J.'s mother, closed the chicken coop at 9 p.m. She went to sleep a few hours later and heard nothing strange during the night, even though the family dog normally barks if there are noises outside. When she awoke, there were no signs of forced entry, but there were two bricks and a piece of wood blocking the coop entrance on Saturday morning. Two hens and two juveniles were beheaded, a rooster Silky was severely wounded, and one juvenile chicken that remained alive received cuts to the neck and is in poor condition. Six hens were spared in the attack, as well as the juvenile chicken.
There were teeth marks on some of the carcasses, but the family is convinced that it was not an animal attack. There are few leads. On Saturday, J.J.'s father Joseph brought him out to see the juvenile chicken. He was all smiles, mimicked the animal's sounds, and cried when his father put him away for the night.
As of Saturday, J.J.'s parents said that he did not know that they were gone, though he seemed to know that something was wrong. His parents did not know how to tell him.
"In this one re­spect, I'm glad that he's special needs," Ashleigh Hart said to reporters.
The police have not recovered all of the heads.
The family had a "Save J.J.'s Ducks" Facebook page to rally community support after the appearance in front of the city council. They say that they have no known problems with their neighbors.
Published by Medicaldaily.com