Florida Girl, Lexi Antorino, Dies 6 Years After A Playground Accident Put Her Into A Semi-Coma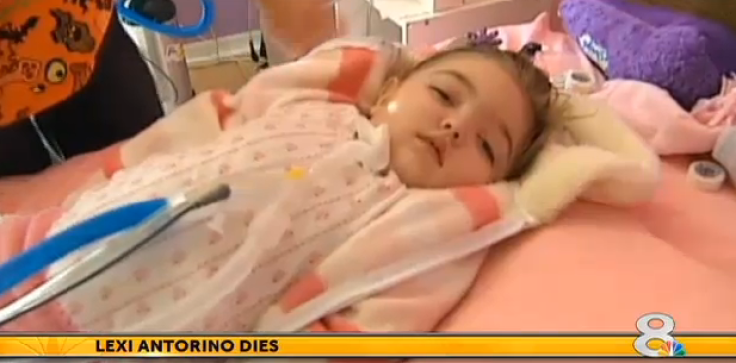 In a heart-warming story of strength and the will to live, a young girl was able to survive for six years after a playground accident left her in a semi-comatose state. Sadly, Lexi Antorino passed away Monday evening from a serious infection. To honor her memory, Lexi's parents will release butterflies at her funeral, as her mother, Sarah Antorino, explained to the NY Daily News, because her "butterfly got stuck in her cocoon."
Lexi was only 2 years old when a neighborhood swing set suddenly collapsed on top of her. The metal bar crushed her skull, broke her neck, and severed the main artery in her brain, The Bradenton Herald reported. A Good Samaritan was able to revive Lexi using CPR, but the extreme loss of blood left the toddler on the brink of death. At All-Children's Hospital in St. Petersburg, Fla., doctors were able to reattach the brain artery. This left the child in a semi-conscious state, unable to communicate or breathe on her own.
For six years afterward, Lexi thrived under the constant watch and care of her family and nurses. The young girl used a ventilator to breathe and could not walk, eat solid food, or blink her eyes. Still, those who knew her well described how her funny personality was able to shine through despite her injuries. "At times we would say, 'Kick your feet, Lexi,' and she would kick. Up until the end, when she was in pain, I think she was happy. I danced for her. We watched princess movies and read stories," Joan Lewis, a long term nurse for Lexi, told The Brandenton Herald.
When Lexi's family noticed the young girl seemed paler than usual and not herself, they suspected an infection. A pediatric gastroenterologist agreed with the family, and last Wednesday, Lexi was admitted to All-Children's Hospital. "She had E. coli in her blood and urine," Sarah Antorino explained. "We don't know why. She was crying at the hospital. The only way I really knew Lexi was crying was nostril flair or one tear, but both of her eyes were crying. She was in agony," Sarah told The Brandenton Herald. Unfortunately, the young child did not respond well to treatment. She was also trying to fight off pneumonia, the Daily News reported, and her lungs were not working correctly with the ventilator. It became clear the young girl's body would not survive this last battle. Lexi quietly passed away at 11:30 a.m. on Monday.
She would have turned 9 on July 1. Lexi's mother says she will be remembered as a sweet girl who "touched so many lives and brought people closer together," she told The Brandenton Herald. "She showed people how to fight. She was a little fighter. She gave people strength. She made me realize how strong I am."
WFLA News Channel 8
Published by Medicaldaily.com