Flu Season In Chicago Has Yet To Peak; Hospitals Ban Teens And Adults With Flu-Like Symptoms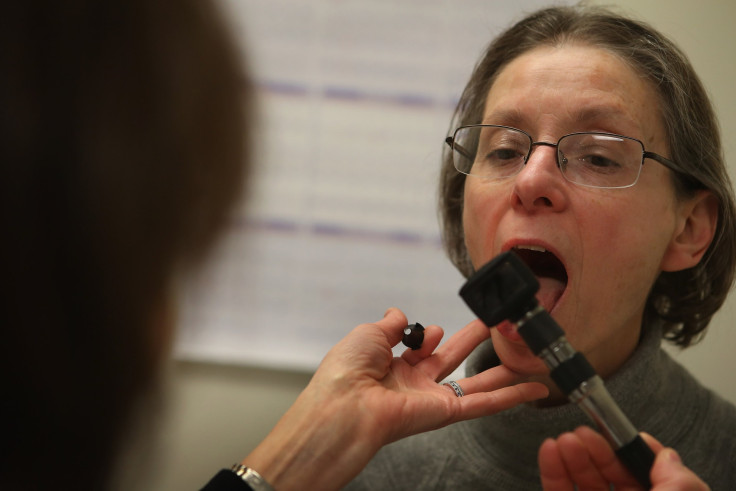 Chicago-area hospitals have implemented visitor restrictions due to an unusual late-winter increase in flu cases, The Chicago Tribune reported.
Influenza is a contagious viral infection that can be deadly, especially in high-risk groups including older people, young children, and people with certain health conditions. Symptoms of the flu include fever, cough, sore throat, fatigue, and muscle or body aches, according to the Centers for Disease Control and Prevention. Vomiting and diarrhea have also been reported symptoms, but they are more common in children than adults.
The flu season in Chicago typically runs from October to May, and every year since 2012, it's peaked by early January. Health officials are seeing a later-than-urual seasonal peak this year. As of Feb. 27, there have been 326 intensive care admissions for influenza this winter, according to the Illinois Department of Public Health. By comparison, on Dec. 26, there had only been 49 admissions. Officials aren't sure why the flu is peaking late, but they suspect it has something to something to do with milder temperatures. Whatever the case, local hospitals have taken precautions and enacting visitor restrictions in an effort to halt the spread of the flu.
"When somebody acquires influenza, they have no symptoms in the first 24 hours even though they are contagious," Stephen Sokalski, chief of infectious disease and epidemiology at Advocate Christ Medical Center, told The Tribune. Children "are the highest risk individuals to either be incubating (the flu) or be contagious... and they're brought into the hospital to visit very ill patients. Because of that... we have come up with our standard recommendations [to limit visitors]."
Advocate Christ, whose influenza patients are mostly children, noticed the unusual uptick in flu cases and responded on Feb. 22 with a ban on visitors younger than 18, and adults who have flu-like symptoms.
Other hospitals in Chicago are taking similar precautions. Northwestern Memorial and Prentice Women's hospitals last week issued an advisory banning sick people from visiting patients, shortly after the Chicago Department of Public Health revealed the uptick in influenza cases. Spokeswoman Kara Spak told The Tribune that in addition to the advisory, patients are also screened for flu symptoms when they first come in.
Meanwhile, officials at Presence Mercy Medical Center in Aurora, Ill., about 41 miles west of Chicago, also enacted restrictions after noticing an increase in flu patients. "We are seeing patients in the 30-to-50 age group all the way from pediatrics to the elderly. The fact the flu is affecting all age groups prompted us to this call for action," said Laura Marconnet, infection control manager at Presence Mercy.
Public health officials say people with upper respiratory infection symptoms should abstain from visiting these hospitals. Visitors who appear to have flu symptoms will be required to wear a face mask, they said, while patients receiving flu treatment will only receive a limited amount of visitors — a select few who are "essential for their emotional wellbeing and care."
Published by Medicaldaily.com