Flu Vaccine Benefits Greater Last Season Than Any Other; 60% Of US Population Remains Unvaccinated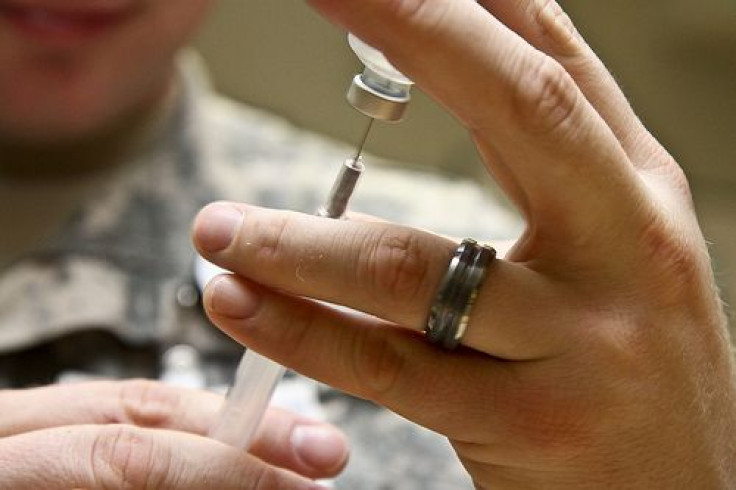 On the heels of one of the most virulent influenza seasons of recorded history, the Centers for Disease Control and Prevention (CDC) have released a report urging Americans to get inoculated, as the estimated benefits of this year's flu vaccine top those of years prior with similar prevalence.
The latest Morbidity and Mortality Weekly Report (MMWR) reveals that an estimated 6.6 million influenza-related illnesses and 3.2 million medically attended illnesses were prevented thanks to flu vaccination. This year's flu season was marked by sweeping uncertainty at the outset, as the government shutdown froze outbreak detection and prevented the CDC from tracking the disease's first hospitalizations. Now that furloughed workers have been able to resume data analysis, the CDC encourages the some 60 percent of unvaccinated citizens to protect themselves from this year's H3N2 strain.
"We could prevent even more illness by increasing use of flu vaccines among people of all ages," said CDC Director Dr. Tom Frieden in a press release. The MMWR estimates that if 70 percent of the population had been vaccinated last season, an extra 4.4 million flu illnesses, 1.8 million medically attended illnesses, and 30,000 flu hospitalizations would have been prevented. Many of the hospitalizations were among senior citizens, Frieden added. "This shows how hard a severe H3N2 season can hit this vulnerable group."
Flu season is fickle. It's difficult to track when the disease begins its yearly circulation across the country, although experts tend to peg flu season as beginning in mid-October and peaking sometime the following January or February. Particularly harsh seasons can run until May even, the CDC reports. The 2012-2013 season accounted for 381,000 hospitalizations, 14.4 million medically attended illnesses, and 31.8 million influenza-related illnesses. While admittedly high compared to previous years, this still falls below the figures of 2009-2010, when the H1N1 virus resulted in some 52 million illnesses and 24 million medical visits.
Motivating people to get vaccinated remains the CDC's largest challenge. While the good news is that this year's vaccination rate is comparable to last year's — it hovers around 40 percent for people over the age of 6 months — that rate is still well below the agency's goal rate. People in health care professions, as expected perhaps, demonstrate extremely high rates of inoculation. Consider pharmacists (90 percent) and physicians (84 percent), while lower-level aides demonstrate lower rates (53 percent for long-term care facility aides; 49 for physicians' assistants).
"We are happy that annual flu vaccination is becoming a habit for many people, but there is still much room for improvement," said CDC's Dr. Anne Schuchat. "The bottom line is that influenza can cause a tremendous amount of illness and can be severe. Even when our flu vaccines are not as effective as we want them to be, they can reduce flu illnesses, doctors' visits, and flu-related hospitalizations and deaths."
Among the most harrowing of these deaths are pediatric deaths, which totaled 169 last season — the largest death toll of a non-pandemic season since the CDC began such data collection in 2004, Frieden said. So far, three flu-related pediatric deaths have been reported. Children face an increased risk for the flu because their immune systems aren't strong enough to ward off the disease as capably as adults. It's for this reason so many states mandate yearly childhood vaccinations before parents can enroll their children in public school. The CDC estimated that children ages 6 months to 4 years old, and seniors over 65, made up 69 percent of prevented hospitalizations.
As the country moves deeper into winter, the CDC expects flu-related illnesses to increase, especially as the peak months inch closer. Dr. Schuchat, for her part, urges all Americans not to put off the shot for later, as symptoms may arise, and by then it will be too late.
"If you have not gotten your flu vaccine yet this season," she said, "you should get one now."
Published by Medicaldaily.com