Former President Jimmy Carter Announces He's Cancer-Free, Thanks To New Drug Keytruda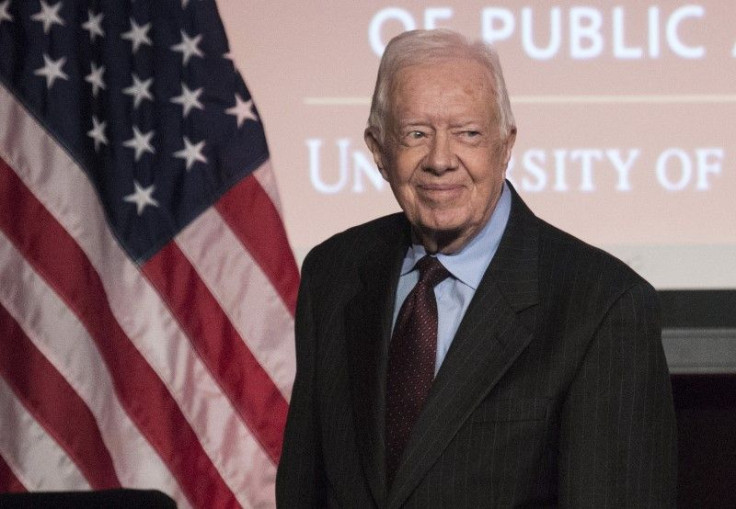 Former President Jimmy Carter announced on Sunday his cancer is gone.
NBC News reported Carter, 91, began his Sunday school class at Maranatha Baptist Church in Plains, Ga., with the good news, explaining an MRI he had earlier in the week "didn't find any cancer at all." NBC said the class gasped and applauded, to which Carter added how much he appreciates the people who have prayed for him. Later on The Carter Center released a similar statement on Carter's behalf.
Doctors first found a melanoma in Carter's liver back in August. The same day he successfully underwent surgery to remove part of the organ, doctors found the melanoma had spread to four parts of his brain. For this, he received four rounds of radiation in an effort to "control" his cancer, making him a candidate for Merck & Co's Keytruda (pembrolizumab). NBC cited this powerful immune-boosting drug "had proved promising in other patients."
The U.S. Food and Drug Administration granted accelerated approval for Keytruda to treat patients with advanced, non-small cell lung cancer in October; it can also treat advanced skin cancer. Dr. Richard Pazdur, director of the office of hematology and oncology products in the FDA's Center for Drug Evaluation and Research, had said Keytruda would give "physicians the ability to target specific patients who may be most likely to benefit from this drug."
Keytruda works by targeting the cellular pathway known as PD-1/PD-L1, which are the proteins found on the body's immune cells and some cancer cells. When this pathway is blocked, the drug can help the body's immune system spot and attack cancer cells — something the proteins disable it from doing, Reuters reported. Healthcare providers inject the drug intravenously usually once every 3 weeks. However, a patient's doctor will determine how long candidates should receive treatment.
The drug so far has a "very low rate" of side effects, but common ones can include nausea, loss of appetite, itching or rash, cough, joint pain, or feeling tired.
One caveat: Keytruda is not cheap. Reuters found the drug can cost $150,000 a year. But when looking at melanoma treatment over the past years, Keytruda is one of the biggest advancements made since 2001, chief science officer of the Melanoma Research Alliance Louise Perkins had said.
Up until 2011, decades went by with no advances, Perkins explained; since then there have been as many as eight different treatments approved for melanoma. If Carter had been diagnosed five years ago, Dr. Anna Pavlick, co-director of the melanoma program at NYU Langone Medical Center, said doctors would "have given him six months to live."
Carter said he plans to continue with his tri-weekly immunotherapy treatments.
Published by Medicaldaily.com