Georgia Doctors Remove 27-Pound Tumor From Belly Of Doris Lewis, Woman Without Health Insurance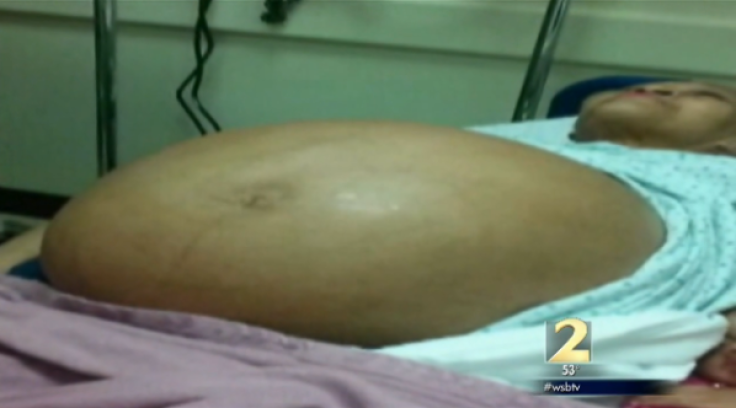 Earlier this May, 59-year-old Doris Lewis finally found a doctor that would operate on her belly to remove the beach ball-sized tumor growing inside her. The surgery was scheduled for June 10 and, as hoped, the Georgia grandmother emerged from surgery on Tuesday tumor-free.
Lewis' cystic tumor was benign, but its massive size had displaced her organs up and to the left. Worse, it had attached itself to the stomach wall and eventually her small intestine and other organs, significantly upping the risk of injury during surgery. Doctors at Emory University performed the eight-hour operation, which ended up removing 12 to 13 liters of fluid from the tumor. It was so huge, in fact, that it ruptured during the procedure.
Dr. Alan Gordon, Division Director in Emory's Gynecologic Oncology department, said that without the surgery, Lewis' 27-pound tumor would have kept on growing, possibly affecting her breathing and digestive system. Even before the surgery, Lewis reported occasional pain. "It's getting bigger every day," she told WSB-TV in May. "I can feel it on my body. My heart hurts a little bit."
The tumor had actually been growing inside Lewis' abdomen for several years. Initially, she thought she was just gaining weight. But complications started to snowball when her husband died, leaving her to fend for her own health without insurance. Her attempts to secure an operation led to a dead end at four separate hospitals. It wasn't until a desperate 911 call, with Lewis complaining of unbearable pain, that she was rushed to Emory University Hospital and told she would be cared for with or without insurance.
On the heels of a successful surgery, Lewis is expected to be up and walking sometime this week. Her family, for their part, is just relieved to see her alive and well. "It was very frightening seeing her sick, seeing her throwing up, seeing this thing in her stomach," her daughter, Sarina Lewis, told the news station. "It will be so much better when I get to see her face and just see her alive."
Published by Medicaldaily.com