Getting Married May Help Cancer Patients Live Longer, But Benefits Vary By Race And Place of Birth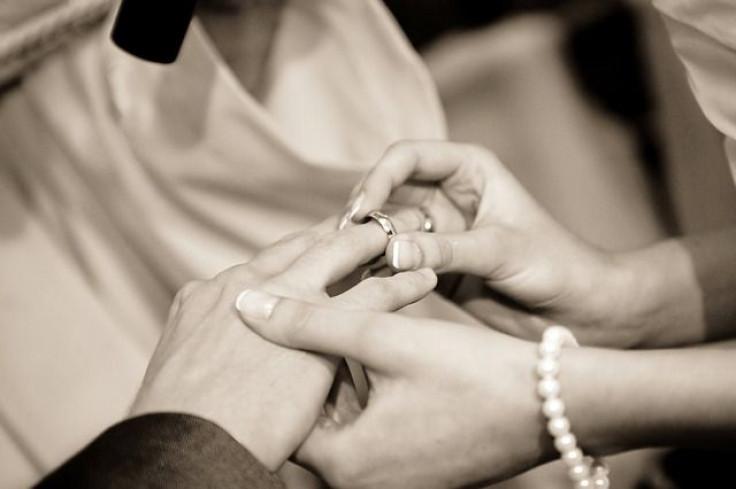 The prospect of spending the rest of your life with the person you love is enough to make marriage look appealing, but new research published in Cancer found that getting hitched can also serve as a protective shell against cancer.
Various prior studies have linked a good marriage to a longer life, more healthy heart and positive mental health, but researchers led by Dr. Scarlett Lin Gomez and Maria Elena Martinez aimed to understand the more nuanced effects of being married, especially when it comes to socioeconomic status, race/ethnicity, and place of birth.
For the study, they collected and analyzed data from nearly 800,000 adults in California who were diagnosed between 2000 and 2009 with invasive cancer and who were followed through 2012. They also evaluated the role economic resources played in this association. The data showed that unmarried patients had a higher death rate than married patients. The death rate for unmarried male patients was 27 percent higher than those who were married. For unmarried female patients, the rate was 19 percent higher.
"The effects that we find were actually quite notable," study author Gomez, research scientist at the Cancer Prevention Institute of California, told CBS News. "They are comparable to some of the more clinical factors we often see that are associated with cancer prognosis, like stage of disease or certain types of treatment."
Researchers also found that this beneficial effect of marriage on cancer survival differed across racial/ethnic groups. For example, among men and women, whites benefited the most from being married, while Latinos and Asian Pacific Islanders benefited the least. The data also showed that Latinos and Asian/Pacific Islander cancer patients who were born in the U.S. had a greater benefit than those born outside the country.
Although researchers aren't sure what reasons underlie this association, they do know that these patterns have little to do with cancer sufferers having greater economic resources, such as private health insurance or a more affluent address. Instead, the researchers cite greater emotional security as the likely reason married cancer patients fare better. "It seems that the major contributing factor is greater social support and less social isolation among married patients," Gomez explained to Reuters.
While many previous studies have measured the health benefits associated with being married, researchers say this study is unique in how it examines whether the financial security associated with being married can account for the higher survival rates married cancer patients enjoy.
While the study does not conclude that single life causes cancer death, it does indicate that unmarried cancer patients could significantly benefit from having someone in their social network to provide physical and emotional support. However, more research is needed to understand the reasons underlying the correlation between marriage and better cancer outcomes so that unmarried patients can receive other interventions that increase their chances of survival.
Source: Gomez S, Hurley S, Canchola A. Effects of marital Status and Economic Resources on Survival After Cancer: A Population-Based Study. Cancer. 2016.
Published by Medicaldaily.com