Giant 4-Pound Hairball Pulled From Teen Girl's Stomach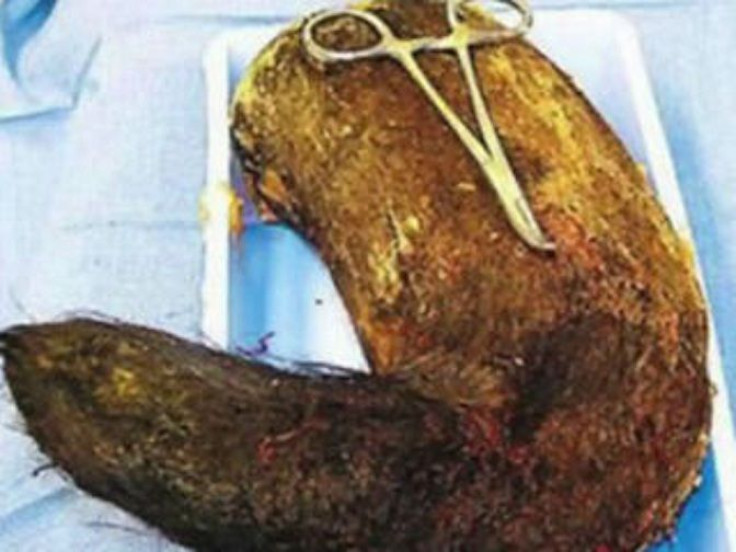 Doctors have removed a massive four-pound hairball from the stomach of a 19-year-old girl. The young woman from India, went to Maharaja Yeshwantrao Hospital in Indore last month complaining that she hadn't been able to eat or drink for a few days, NDTV.com reported.
Doctors had examined her and found that she had a hair ball weighing nearly four pounds stuck between her stomach and small intestine.
Apparently the young student, from Rajgarh in Madhya Prades, had a bad habit of snacking on her own hair and chalk while in class, which led to an intestinal obstruction that choked up the girl's stomach, leaving her unable to take in anything else.
Dr. Parvinder Singh Lubana and a team of gastro-surgeons were later able to successfully remove the giant hairball that was wrapped around a chunk of chalk that was stuck between the woman's stomach and small intestine. According to Dr. Lubana, who led the surgical team, the operation was a success, NDTV reported.
While the latest hairball incident seems impressive, it pales in comparison to the monstrous hairball surgeons removed from a Chicago teenager girl in 2007 reported by CNN.
The 18-year-old had told doctors that she had experienced a 40-pound weight loss, vomiting after eating and pain and swelling in her abdomen. Later, doctors had successfully removed a giant mass of black, curly hair, which weighed 10 pounds and measured 15 inches by 7 inches, according to CNN.
Published by Medicaldaily.com