Doctors Stored Ex-Beauty Queen's Skull in Her Stomach in Bizarre Life-Saving Surgery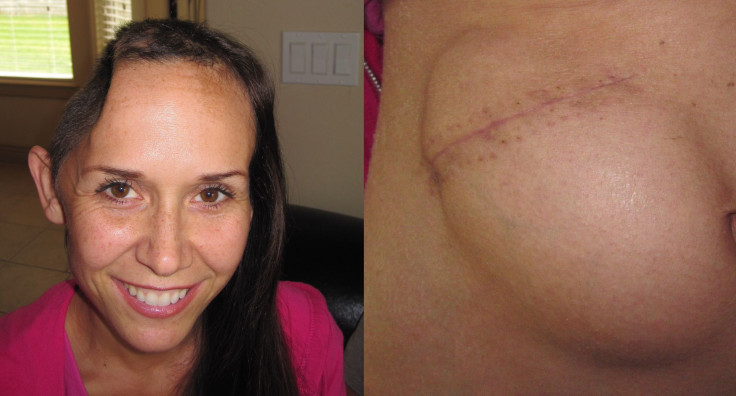 An ex-beauty queen has undergone a bizarre life-saving brain surgery where doctors removed a quarter of her skull and stored it in her stomach while she was recovering from a head injury.
Surgeons had removed the right back portion of Jamie Hilton's skull and placed it in her abdomen so that the bone would remain sterile and nourished as her swollen brain recovered. When the mother-of-three and former Mrs. Idaho woke up from the operation, she found that not only was her was part of her head missing, but there was a large hard lump in her stomach.
The piece of bone 'lived' in her stomach for 42 days until it was stapled back onto her head in a successful operation, and now three months after her near-fatal fishing accident the 36-year-old has finally returned home. Jamie, who won Mrs. Idaho in 2009 and completed in the Mrs. America beauty contests, almost died in June when she joined her husband Nick and brother-in-law Greg on a salmon fishing trip to Hell's Canyon in Idaho.
As she was trying to reel in her first fish, she accidentally slipped and fell 12 feet onto a boulder. When her husband rushed down to his wife, he found her unconscious, without a pulse and not breathing. The when he lifted her, she began breathing again and a nearby Forest Ranger called for emergency services.
Jamie was then airlifted to Saint Alphonsus Regional Medical Center in Boise where doctors found her brain become so swollen that would have died if her family had not made the decision to remove a quarter of her skull until the brain swelling went down. The piece of skull was then removed and remained in her abdomen for a month a a half until it was removed and reconnected to her head.
Writing on a blog post about her near death experience she said that when she woke up from the operation she called the doctor over to her and said: 'Thank you for what you have done. You have saved my life!'
"Surgery went as well as expected! My skull is back in my head... really weird to say ;)," she wrote after her skull was replaced. "Stitches this time, not staples! They are scheduled to come out August 3rd. yeah! So for now the only possible problems, are infection, or my body rejecting the skull being back in my head."
"Your prayers are FELT and APPRECIATED! Never in my life have I FELT the prayers and faith of others in my behalf. What a marvelous experience," she added.
Jamie had posted a photograph of the skull in her abdomen on her blog page entitled "Miracles believe in them" as well as a picture showing a scar running down the side of her head. She has now returned to work in the family taxi business as she attempts to clear a six figure medical bill for her life saving surgery.
Published by Medicaldaily.com