Girl With Deadly Brain Cancer Glioblastoma Multiforme Receives Heartwarming Postcards From Around The World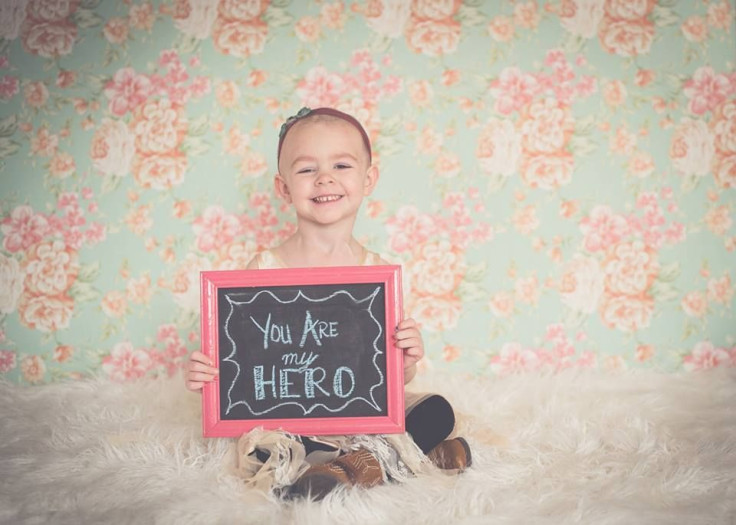 When Ellie Walton was just four months old, her mother noticed a lump on her daughter's head. Soon after, she was diagnosed with a rare form of brain cancer and at three years old, has had 17 surgeries and five tumors removed. Although treatments have kept her on a long road of hospital visits, in the last few months Ellie's spirits have been lifted by the postcards sent to her from around the world.
"I started asking people to send postcards. It was a few postcards here and there," Ellie's mother Sarah Walton told ABC News, and said soon the family began receiving them by the dozens. "Everybody posts something on the card and everything on the card touches my heart. It's another prayer for her."
Ellie's love for postcards started when Ellie's grandparents sent one to her and to her older sister Ava from Arizona. The sisters began asking for more postcards, so their mother turned to the Facebook page she used to update people on Ellie's condition. Quickly, postcards from around the world flooded their mailbox, including 47 U.S. states and foreign countries, including Germany and South Korea. In just the last month, she's received over 500 postcards. Ellie's favorites are the ones with pictures of dolphins.
Ellie is diagnosed with glioblastoma multiforme, characterized by a fast-growing brain tumor. There is a 25 percent chance of a child surviving five years after initial diagnosis, according to the American Brain Tumor Association. Radiation and chemotherapy are often used to slow the growth of tumors that cannot be removed with surgery, however doctors tend to lean towards chemotherapy in order to avoid exposing children to radiation.
Depending upon the size and the location of the tumor, children may experience different symptoms. Tumors, which are clusters of abnormal cell growth, can be very complicated to treat when present in the brain because of the delicate tissue that surrounds them.
According to the Dana-Farber Cancer Institute, 65 percent of glioblastoma multiforme tumors occur in the cerebral region of the brain, which can affect speech, movement, thought, and sensation. Another 20 percent of children have tumor growth occurring in their thalamus, hypothalamus, or diencephalon, which identifies sensations like temperature, pain, and touch. Roughly 15 percent have growth in the cerebellum and brainstem, which may affect coordination, balance, and motor function.
Most children are diagnosed when a child is nine or 10 years old and the tumors occur in both boys and girls at the same rate. Doctors say there is nothing a parent could have done or avoided doing to prevent the tumor from developing. Noticeable symptoms may occur over time and are important to watch out for if a tumor growth is suspected. Signs may develop slowly or suddenly, with the most common being headaches, lethargy, seizures, weakness, motor dysfunction, hormonal abnormalities, and changes in behavior or thought process. However symptoms don't necessarily signify tumor growth; it's recommended to follow up any suspicions with a doctor.
Last June 2015, the tumor grew back, making her condition terminal. Ellie's undergoing two different cancer regimens that have weakened her immune system. After about a year of treatment, the family plans to go to Hawaii for her Make-A-Wish trip so Ellie can see real dolphins up close.
Published by Medicaldaily.com