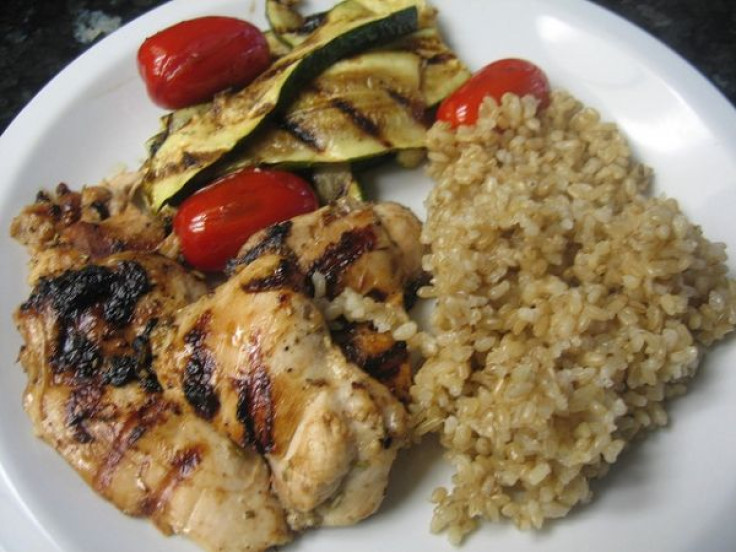 This easy chicken recipe is low in calories and fat (about 400 calories per serving) and is great for healthy weight loss because it is also rich in vitamins, and folic acids that you need to give your metabolism that extra boost!
Ingredients per Serving
1 chicken breast (deboned and de-skinned)
1 Raw Tomato
4 Lettuce Leaves
2 Tablespoon Olive Oil (Separated)
2 Tablespoons vinegar
1 Lemon
1 TBS Salt
½ TBS Pepper
1 Tablespoon Thyme (can be replaced with Rosemary)
Lay the chicken breast on a flat cutting service and score even lines along the meat (about ¼ inch thick). Gently rub salt, pepper and thyme into the raw meat and be sure to push the seasoning into the scored lines. Rub the chicken with one tablespoon olive oil (make sure that the entire chicken is oiled)
Place chicken in a pan over medium heat and cook for about 6-7 minutes per side or until gently browned and no longer raw in the center.
Meanwhile; slice the lemon into wedges. Slice the tomato in about ¼ inch thick slices and chop slices into cubes. Chop lettuce leaves into bite sized pieces.
Mix remaining olive oil with vinegar and toss vegetables together in a bowl with the juice from one lemon wedge.
Put the salad onto a serving platter and place the chicken over it. Squeeze a lemon wedge over the chicken and serve.