Health Benefits Of Walnuts Update: Tree Nuts Linked To Mood Improvements In Healthy Young Men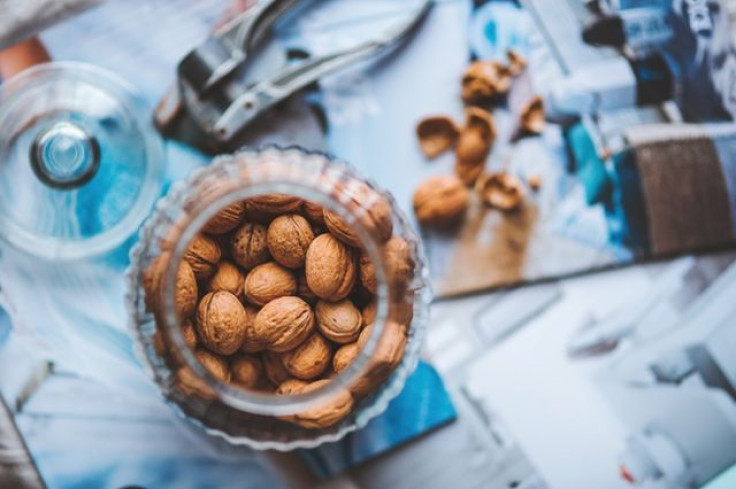 Walnuts are more than just a tasty accompaniment on a cheese platter. These tree nuts are rich in vitamin B, fiber, omega-3 fatty acids and several other nutrients, Medical Daily previously reported, and can potentially alter your attitude.
A new study from University of New Mexico nutrition Professor Peter Pribis found that young, healthy men who consumed walnuts every day experienced significant improvement in mood.
The researcher carried out a double-blind, randomized, placebo-controlled, cross-over feeding trial with walnuts for eight weeks, EurekAlert! reported. The study participants were 64 students between the ages of 18 and 25 from different ethnic groups — spanning Caucasian, African American, Hispanic and Asian.
Participants were asked to eat three slices of banana bread every day over a period of 16 weeks. For half of the time, the loaf contained finely-ground, unnoticable walnuts; while the other half of the group consumed banana bread that contained no nuts at all.
"There was a meaningful, 28 percent improvement of mood in young men," Pribis said, according to EurekAlert!. "However we did not observe any improvement of mood in females. Why this is, we do not know."
Pribis observed a significant improvement in mood in young, healthy males.
"In the past, studies on walnuts have shown beneficial effects on many health outcomes like heart disease, diabetes and obesity," the researcher explained. "Our study was different because we focused on cognition, and in this controlled randomized trial (CRT) we measured mood outcomes in males and females."
Source: Pribis P. Effects of Walnut Consumption on Mood in Young Adults — A Randomized Controlled Trial. Nutrients. 2016.
Read more:
Fight Memory Loss By Eating Walnuts: Less Than A Handful A Day Maintains Cognitive Function
Handful Of Walnuts A Day Keeps The Doctors Away, But What About This Certain Nut Makes It So Healthy?
Published by Medicaldaily.com