Healthy Diet Tip: Daily Handful Of Nuts Can Reduce Your Risk Of Heart Disease, Cancer, And Other Diseases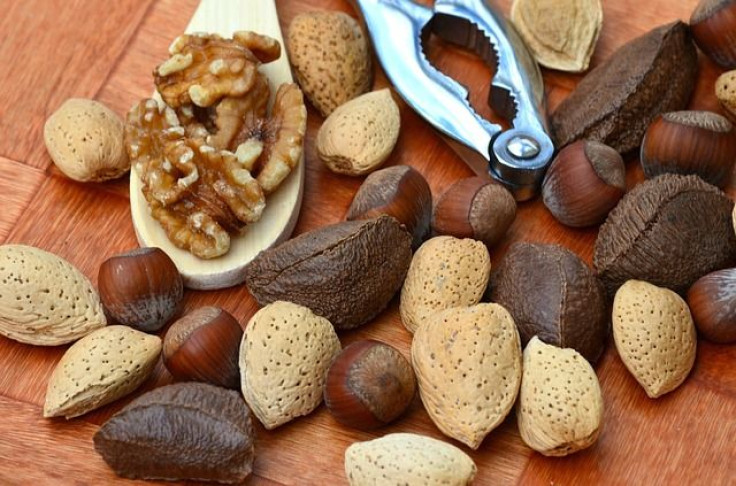 Snacking on nuts could be better for your health than you think. A new study published in the journal BMC Medicine has found that eating just 20 grams of nuts a day can lower your risk of heart disease, cancer, and other diseases.
Eating peanuts and tree nuts — like hazelnuts, pecans, almonds, and walnuts — daily can cut people's risk of coronary heart disease by nearly 30 percent, their risk of cancer by 15 percent, and their risk of premature death by 22 percent, Medical XPress reported.
Results also linked eating nuts to a reduced risk of death from respiratory disease and diabetes, but there is currently less data about nuts in relation to these diseases.
Read: Benefits Of Nuts: Eating 10 Grams Of Nuts And Peanuts A Day Lowers Death Risk Of Major Causes
To reach these findings, researchers examined 29 published studies from around the world, according to Medical XPress. They involved up to 819,000 participants, including thousands with a history of coronary heart disease, stroke, cardiovascular disease, and cancer.
"In nutritional studies, so far much of the research has been on the big killers such as heart diseases, stroke and cancer, but now we're starting to see data for other diseases," said study co-author Dagfinn Aune, according to Medical XPress.
"We found a consistent reduction in risk across many different diseases, which is a strong indication that there is a real underlying relationship between nut consumption and different health outcomes," he continued. "It's quite a substantial effect for such a small amount of food."
Want even more health benefits from nuts? Eating more than 20 grams won't offer further improvements, the study found.
Source: Aune D, Keum N, Giovannucci E, Fadnes LT, Boffetta P, Greenwood DC, et al. Nut consumption and risk of cardiovascular disease, total cancer, all-cause and cause-specific mortality: a systematic review and dose-response meta-analysis of prospective studies. BMC Medicine. 2016.
Read more:
Cancer-Fighting Food Areca Nuts: 5 Things To Know About Dangerous Asian Nut That Could Save Your Life
National Nut Day 2014: Peanuts, Tree Nuts, And How Each Helps Your Health
Published by Medicaldaily.com