Heidi Klum Posts Photo Of Her Sun-Burned Backside: 4 Easy Tips To Keep Your Bum Sunburn Free [PHOTOS]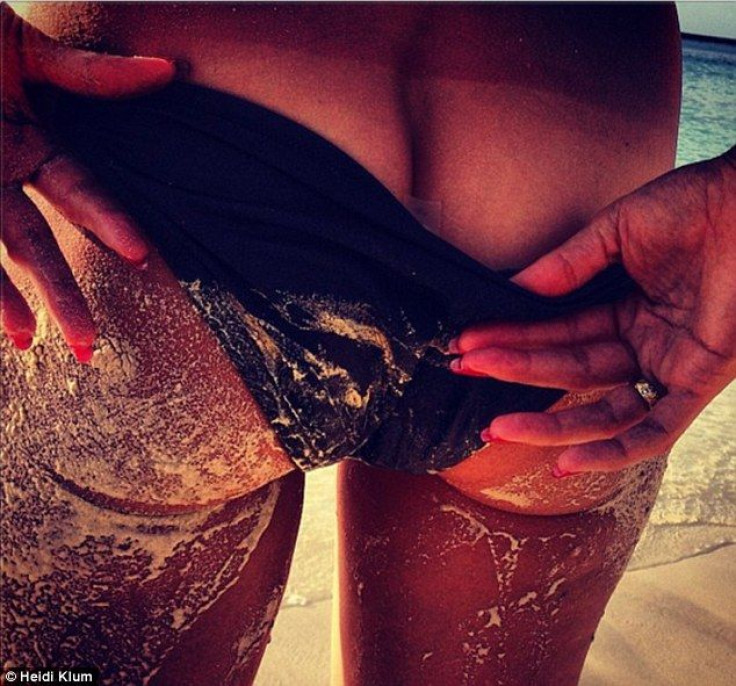 While on vacation with her family in Barbados, it seems that America's Got Talent judge Heidi Klum kept her butt in the sun a little bit too long... literally.
Klum spent the weekend on the tropical island with her four children and her bodyguard-turned-boyfriend Martin Kristen. The former supermodel posted photos of her vacation on Instagram for all of her fans to enjoy. The photo of her sunburned buttocks, accompanied with a caption simply saying "ouch" was posted Saturday.
Klum could have avoided the tingly incident if she had followed these few tips that the Mayo Clinic suggests for sunburn prevention:
- Use sunscreen frequently and liberally (even on your butt).
- Wear sunglasses while outside.
- Cover up in clothing that covers your arms and legs, and wear a broad-brimmed hat.
- Avoid sun exposure between 10 a.m. and 4 p.m.
In 2012 more than one-third of American's reported being sun-burned. The Center for Disease Control (CDC) estimates that only 45 percent of young adults age 18-24 use one or more sunscreen methods. "If you're going to be outdoors in the sun or even it's cloudy, you definitely need sunscreen," Dr. Marina Peredo told Medical Daily.
So, you don't have to be like Heidi Klum and get burned in uncomfortable places this summer. Instead, you can follow those quick tips and avoid the burn all together.
Published by Medicaldaily.com