Higher Academic Stress Ups Injury Risk In College Football Players During Test Weeks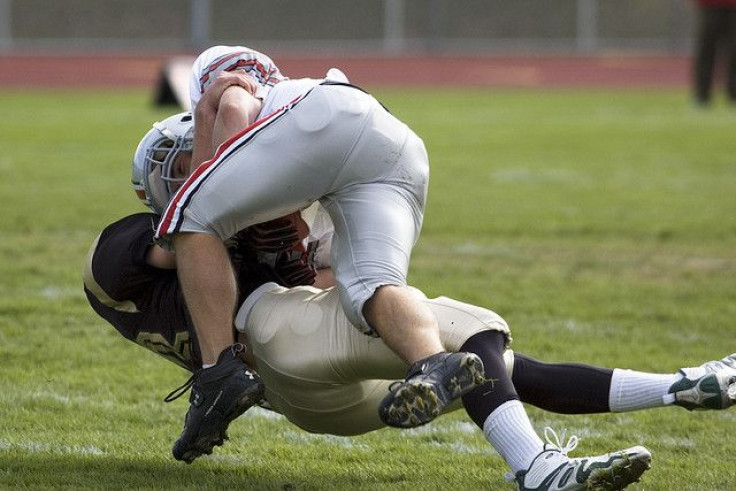 Playing college sports requires a lot from the regular student athlete: You have to train to perform on an elite level, while also keeping your grades high enough to remain eligible to play. Anyone who has gone to school knows that mixing sports, school, and a social life requires a balance that can bring about a ton of stress. So much academic stress, research shows, can lead to illness and injuries on the playing field.
Researchers at the University of Missouri have found that college football players are more likely to be injured during a test week than they would be during training camp. The effects of academic stress are even more profound in players that are in the starting lineup.
"Stress is systemic," said Bryan Mann, an assistant professor of physical therapy in the MU School of Health Professions and assistant director of strength and conditioning for Missouri Athletics, in a press release. "Everything players deal with on a daily basis creates stress. They don't have separate accounts to withdraw from for practice, school, and relationships. Whenever there's stress, something's got to give. Otherwise, it's similar to when unexpected expenses arise at the same time and you're likely to overdraw your checking account. It's the same idea but on a physiological basis rather than a monetary one."
The researchers looked at weekly injury reports for 101 student athletes on a Division 1, which is the highest level of competition in college, football team. During a 20-week season, 60 different players had 86 injury restrictions, which are defined as a limit to a player's physical activity due to injury or illness. They found the players were 3.19 times more likely to receive an injury restriction during a test week, such as a midterm or final. When compared to a week where the player didn't have a test but were physically exerting themselves more, such as at training camp, the research showed the players were only 2.84 times more likely to have an injury restriction.
"We know when there will be midterms or finals, and we can plan for these academic stressors and accommodate practices accordingly to minimize the risk of injuries," Mann said. "Some stressors we can't predict, but if we know about them, then there are things that we can do. Coaches should get to know the athletes and watch how their attitudes change. As attitudes change, it usually indicates that something else is going on in their lives. We've got to find those causes so we can be proactive and get the athletes counseling or find other ways to meet their needs."
Source: Mann B et al. High academic stress linked to increased illness, injuries among college football players: Starting players more likely to get hurt during test weeks than training camp. University of Missouri-Columbia. 2015.
Published by Medicaldaily.com