HIV-Positive Men And Pregnancy: CDC Rules 'Sperm Washing' Effective In Preventing Transmission To Baby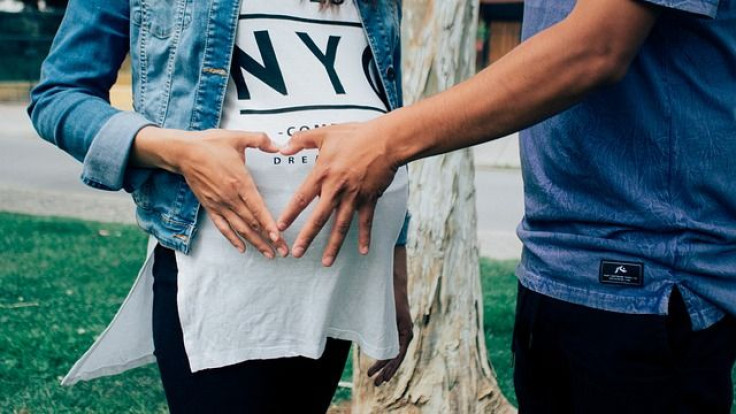 Many couples in relationships where one partner is HIV positive and the other person is uninfected want to have children. It's possible for couples to have a safe and successful pregnancy, and prevent HIV transmission to the uninfected partner and the baby. The Centers for Disease Control and Prevention (CDC) has recently approved "sperm washing" as an effective technique for HIV-positive men to conceive with HIV-free women, without the risk of spreading the virus to their offspring.
In the Morbidity and Mortality Weekly Report (MMWR), Dr. Jeniffer F. Kawwass, of the CDC's Division of Reproductive Health, National Center for Chronic Disease Prevention and Health Promotion, and her colleagues, explain sperm washing is a risk-reduction strategy that involves separating sperm from infected cells in the seminal fluid, and using the sperm for intrauterine insemination (IUI), or in vitro fertilization (IVF) treatment. This method is seen as an "extra step" that will ensure the virus isn't transmitted. The researchers said the washed sperm was 92 to 99 percent free of the viru's RNA.
Read More: This Vaginal Ring May Protect You From The AIDS Virus
Women without HIV who underwent IUI or IVF using washed sperm from their HIV-positive male partners did not contract the virus. There were no transmissions reported among babies born to these mothers. The researchers estimate the risk for transmission per IVF cycle is similar to the risk per IUI cycle. However, IVF is a more effective fertility method than IUI or natural conception, because men with HIV may produce less sperm.
In mixed HIV status couples where there are no known fertility problems, they can conceive via sexual intercourse with the help of viral suppression. If an HIV-positive man and HIV-negative woman want to conceive, they should use highly active ART (HAART) and daily pre-exposure prophylaxis (PrEP) at the time of ovulation, respectively. HAART involves the combination of several anti-HIV drugs used to slow the rate at which HIV multiplies in the body, while PrEP is a drug that protects against infection.
Condomless sex has been seen as a significant risk factor in HIV infection. However, studies have shown when a man takes HAART, his blood and semen viral load are sufficiently suppressed, and the risk of transmission is 0.16 per 10,000 exposures. Couples who follow the HAART/PrEp risk reduction strategy can also do sperm washing to be extra cautious.
However, researchers remain wary about condomless sex with the HAART/PrEp method. Typically, doctors will test a man's blood viral levels before giving the "OK" for condomless sex, but other studies have found men with undetectable blood viral levels may still shed some of the virus in their semen. The rate of transmission remains low, but this can still be unsettling for mixed HIV status couples who wish to conceive
This is why sperm washing is recommended by the CDC as the most effective technique for these couples. Other medical organizations, like the the British HIV Association and Children's HIV Association recommend sperm washing as the safest conception method to protect the uninfected female partner of an HIV-positive male. Previous research has declared sperm washing to have a zero risk of HIV transmission.
According to the CDC:
"[C]urrent evidence suggests that the risk for transmission from an HIV-infected male partner to an HIV-uninfected female partner is low if appropriate risk-reduction strategies are implemented. As data regarding the safety and effectiveness of semen processing emerges, the risk profile for each treatment option will be further defined."
Read More: Preventive HIV Medicine PrEP Could Keep New Diagnoses Low Among High-Risk Groups, Says Study
Sperm washing may help couples get closer to conceiving, but the technique can be costly, depending on what other fertility treatment is used. In addition to sperm washing, couples will spend additional money on HIV treatments to suppress the virus. According to the CDC, an estimated lifetime cost of treating HIV is $379,000 (in 2010 dollars), and nearly 30 percent of those living with the virus are uninsured.
The new guidelines give couples with a mixed HIV status reassurance in trying these conception techniques, but the expense may still be a deterrent.
Source: Kawwass JF, Smith DK, Kissin DM et al. Strategies for Preventing HIV Infection Among HIV-Uninfected Women Attempting Conception with HIV-Infected Men — United States. MMWR. 2017.
See Also:
HIV Survival Is Nearly On Par With Healthy Population Thanks To Antiretroviral Drugs
Successful Antibody Trial Brings Us Closer To Destroying HIV, And Creating Vaccine
Published by Medicaldaily.com