Horrified Student Finds Strange "Wrinkled Brain" Organ in KFC Meal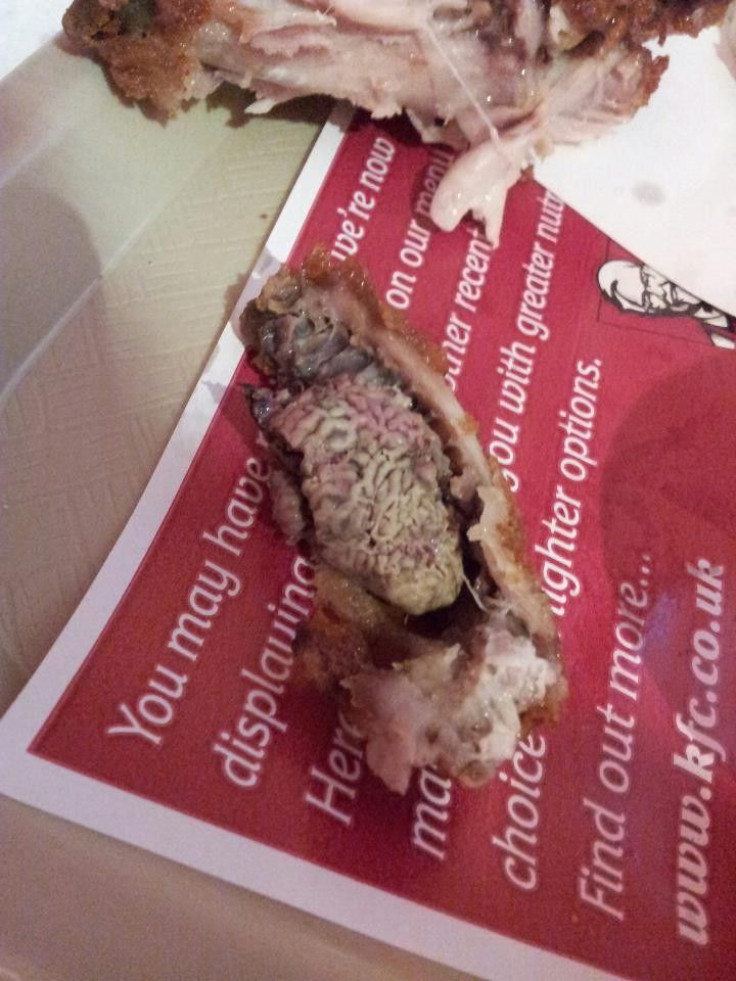 A horrified student has said he'll never eat at Kentucky Fried Chicken again after finding what appeared to be a chicken brain in his fast food meal.
Despite being offered free food vouchers as an apology, Ibrahim Langoo from Britain has vowed that he'll never again eat at the fast food chain.
The 19-year-old was left in utter disgust after he noticed a "wrinkled brain" inside a piece of chicken while he was eating his Gladiator box meal.
Langoo had taken a photograph of the three-inch piece of organ, which was later determined to be a kidney by KFC officials, on his cell phone and complained to staff.
Langoo and his friend Laura Canning, 19, had gone into the Colchester, Essex KFC branch for lunch between classes.
Langoo and Canning had planned to share a Gladiator box meal. Canning decided to go for the filet burger and Langoo went for the two chicken pieces.
"The first piece was absolutely fine -I was hungry and polished it off," Langoo told the Daily Mail.
"I have a habit of picking the chicken off the bone with my fingers, and as I pulled the second piece apart I saw this horrible wrinkled foreign body," the teenager said as he recalled his nauseating discovery. "I threw it down onto my tray immediately. It looked like a brain."
The 19-year-old said he "suddenly felt grim and really sick."
"I couldn't bring myself to pick the lump up so I went to the serving counter to complain. It was about 1 p.m. and pretty hectic in the restaurant and as it was so busy none of the staff helped me," Langoo said.
"I just wanted to get out of KFC as quickly as I could. I still feel really sick and disgusted by it all now," he added.
Langoo said that he later submitted a complaint online along with a photograph of the offal taken on his mobile phone.
"KFC say they are sorry and are concerned to hear of my experience as they have 'rigorous standards' but I'm still not impressed," he said. "I never want to eat KFC again -- in Colchester or anywhere else. I'll eat chicken at home, where I can see how it's been prepared."
KFC experts had examined the organ and determined that the "wrinkled brain" was in fact a chicken kidney.
In a statement, the fast food chain apologized for the organ being left in the chicken.
"Although we haven't received the product, it appears from a photograph that unfortunately on this occasion a kidney, and not a brain as claimed, was not removed in the preparation process," a KFC spokesman said in a statement, according to the Daily Mail.
"We're very sorry about Mr. Langoo's experience and while there was no health risk, we agree it was unsightly. We will be carrying out a full investigation and providing him with a gesture of goodwill," the spokesman added.
Published by Medicaldaily.com