How Stressed Are You? New Calculator Tabulates The Weight Of Your Worry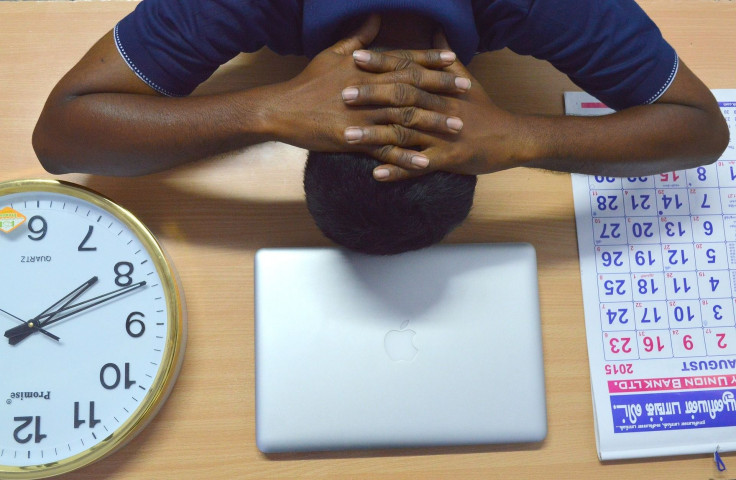 How stressed are you? If you feel the weight of stress on your shoulders, there's now a way to measure whether it's the overwhelming crush of a grizzly bear or merely the strain of a panda. A new interactive calculator asks users how often they worry about a variety of issues, which are then ranked on a scale from one to 10.
Read: Eating These 5 Foods Will Lower Your Stress Level
Topics of concern include money, health, family, personal, career and world affairs. Each category then asks about specific focus areas to determine how boyfriend troubles or your lack of savings, for example, impact stress levels.
Created by British car, home and life insurance firm Liverpool Victoria, LV=, the company found that money is the biggest cause of stress among 2,000 adults, weighing in at 153 pounds. They also concluded that 496 pounds is the average weight of worry, or the equivalent of a panda, pig or lion, reports Daily Mail.
Weights were calculated using the formula 5a+Y+T = X, according to the paper. A represents general worry across all areas of life and y equals the total level of other worries, like family. T is the total time spent worrying and X signifies the resulting weight.
Read: The Science-Backed Diet For Health And Longevity: Eat 10 Servings Of Fruits And Vegetables A Day, Study Says
Here in the U.S., the Stress in America survey from the American Psychological Association found that adults reported more stress-related physical and mental problems in 2015 than in 2014. Concern over money is prevalent in the U.S. and was reported as a main concern for 64 percent of Americans, followed by work with 60 percent, the economy at 49 percent and family responsibilities hitting 47 percent.
While unavoidable, there are ways to make coping with life's demands easier. The organization recommends seeking social support from family and friends (though not if they're the cause of your stress), meditation, exercise and laughter as simple ways to relax.
See Also:
8 Ways That Stress Shows On Your Face: The Aging Effects Of Anxiety
A 30-Minute Run Fights Alzheimer's, Promotes Weight Loss, And Benefits Your Skin, Mental Health And More​
Published by Medicaldaily.com