Husband's Body-Positive Post About His Wife Goes Viral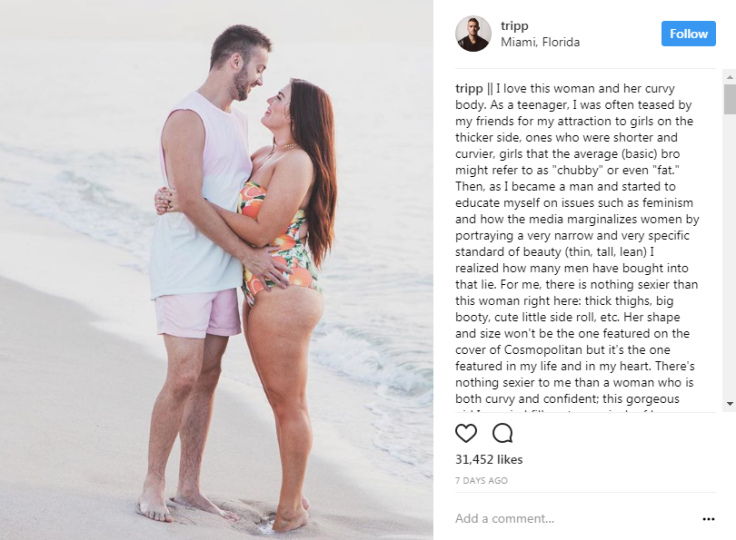 A man's viral body-positivity post about loving his "curvy wife" has been praised by many for being inspirational, but it has also received its fair share of backlash over the idea a man should be called courageous simply for loving a curvy woman.
Robbie Tripp, a 26-year-old author and activist, took to Instagram to share a heartfelt message accompanied by a photo of him and his wife, Sarah Tripp, on the beach.
Read: Young Woman With Vitiligo Spreads Body Positivity While Painting Her Skin Into Works Of Art
He notes that when he was younger, he was often made fun of because he was attracted to girls who were shorter and curvier. "Then as I became a man and started to educate myself on issues such as feminism and how the media marginalizes women by portraying a very narrow and very specific standard of beauty (thin, tall, lean), I realized how many men have bought into that lie," Tripp wrote on the post, which has collected more than 31,000 likes. To read his message in full, see the photo below.
Those in support of Tripp's message have praised him for being so open and honest. "Oh, gosh so thankful for such men like you! Hopefully every woman will find someone who will love her same as you do, for... who she is," one user wrote.
"I LOVE what you said, Robbie. High praise for your post," another user commented. "IN a world of negativism, divorce, and body shaming, it's nice to hear a good word."
Others on the internet were quick to criticize Tripp for his post, citing his misunderstanding of feminism. "This is not a love letter to his wife. This is a self congratulatory letter to himself for liking curvy women. That's not revolutionary," a Twitter user wrote.
Read: Body Image: Instagram Photos Show Off Bloated Stomach And Eczema On Face Of Fitness Blogger
Sarah Tripp, 25, told TODAY she was touched by her husband's "incredibly sweet" post. Body-positivity is a topic she's no stranger to. On her blog, Sassy Red Lipstick, she frequently talks about being confident in her own body and embracing her curves.
In a follow-up post, Tripp discussed the excitement of seeing the widespread reaction his original post received. "So much positivity and love have come from [the post]. Seeing men from around the world tagging their girlfriend/wife and telling her how much they love her curvy body has been amazing," he wrote. "Thanks to each and every person who has commented and messaged us with your thoughtful words."
See also: Middle School Girl Pens Short Essay Explaining Why She Refuses To Calculate BMI, Asserts Body Positivity
Boobs Over Belly Buttons Responds To The Belly Button Challenge With Body Positivity And Breast Cancer Awareness
Published by Medicaldaily.com