Indian Man With Cysts Has World's Largest Kidneys Removed, Each The Size Of A Newborn Baby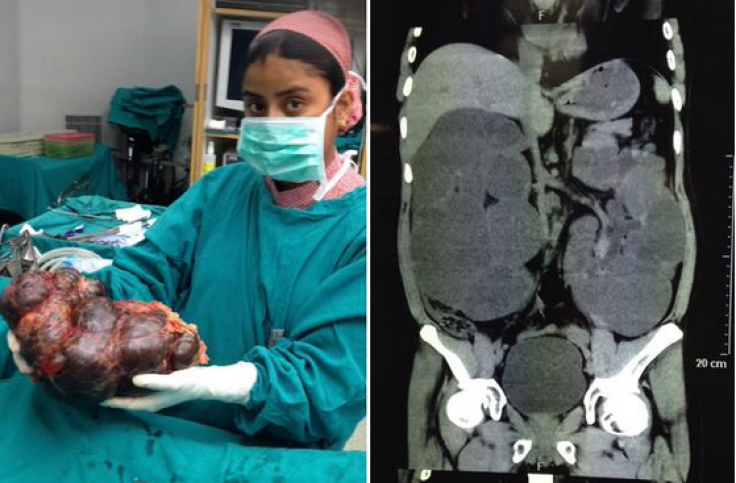 A man in India with severe abdominal pain unexpectedly broke a world record when he was admitted to the emergency room. The 45-year-old unnamed man stunned surgeons during an emergency surgery at Delhi's Sir Ganga Ram Hospital when they removed a massive 6-pound kidney from his abdomen — 20 times bigger than the normal size. The man's abnormally large kidney was a result of fluid-filled cysts growing in the organ due to autosomal dominant polycystic kidney disease (ADPKD), an incurable genetic disease.
The pain-stricken man arrived at the hospital with symptoms of a high fever, blood in his urine, and severe abdominal pain. He admitted his body felt drained due to the severe blood loss. "I used to remain tired throughout the day due to excessive blood loss," he said, the Daily Mail reported.
Dr. Manu Gupta, a consultant and urological surgeon at the hospital admitted the emergency operation was a difficult task for him and his team. "It took us three hours and a difficult dissection to remove the kidney that weighed 2.75 kg — 20 times more than normal. It was even more complicated because the kidney was stuck to the surrounding intestines," he told The Times of India.
A week later, Gupta removed the man's other kidney that weighed 5.5 pounds. Both kidneys extracted at the hospital broke the Guinness World Record of the largest kidneys removed. The previous record was the removal of a 4.7-pound kidney which measured 13.28 x 5.57 x 5.93 inches in Dhule, India, in 2011. Normal kidneys typically weigh one-quarter pound.
Abnormal kidney growth is common for patients with ADPKD. The genetic condition causes multiple kidney cysts to develop and slowly begin to enlarge the kidney. They replace normal healthy tissue, which causes the kidneys to stop working, says the National Institutes of Health. These cysts can also go unnoticed until adulthood. Although symptoms vary by individual, they include back or abdominal pain, recurring urinary infections or blood in the urine, kidney stones, and kidney failure.
In several cases, specifically this ADPKD patient, pre-transplant nephrectomies – the removal of the kidneys — is necessary. Vinant Bhargav, consultant nephrologist at the hospital, reassured the patient is doing well. "The patient is recovering well now and awaiting kidney transplant," he told the Indo-Asian News Service.
If the kidney transplant is from a living donor, he has about a 98 percent one-year survival rate and 90 percent for at least five years.
Published by Medicaldaily.com