Infections Linked to Tainted Steroid Injections Near 500 Cases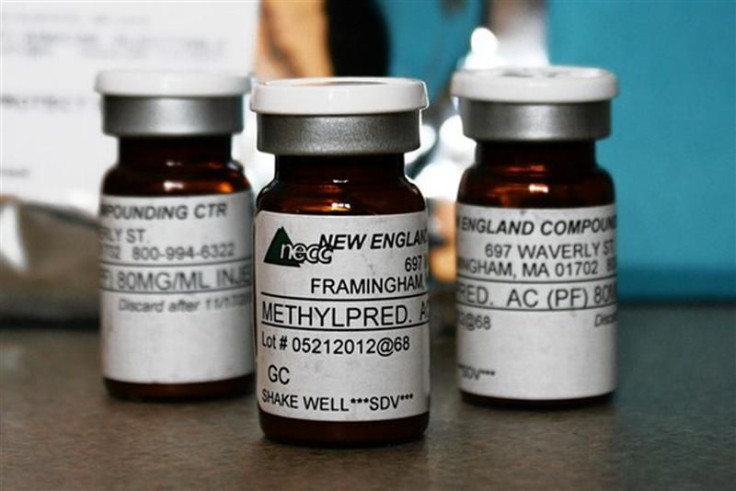 A deadly outbreak of infections linked to tainted steroid injections is approaching 500 cases nearly two months after it began, and health experts said on Wednesday it was unclear whether the epidemic had peaked amid new risks facing patients.
Many patients initially stricken with fungal meningitis are developing secondary infections, prompting a renewed effort to contact people who received the injections, said health officials in Tennessee and Michigan, the two hardest-hit states.
The outbreak, first detected in Nashville, Tennessee, in September, has stricken at least 490 people in 19 states, with 34 deaths, according to the U.S. Centers for Disease Control and Prevention in Atlanta.
"I wouldn't want to characterize the epidemic as having reached a peak or (say) that we are over the worst part," Dr. J. Todd Weber, the CDC's incident manager, said on Tuesday.
Weber said many patients face weeks to months of additional treatment, more people may get sick, and there is more to learn about the infections to ensure the best care for those stricken.
The CDC has estimated that 14,000 patients received potentially tainted steroids believed to have been prepared in unsanitary conditions by a Massachusetts-based compounding pharmacy and shipped to customers in 23 states from May to September.
The rate of infection, based on 500 cases out of 14,000 people exposed mainly through injections to relieve back and joint pain, has been about 3.5 percent so far, somewhat lower than the 5 percent rate Tennessee first forecast, Weber said.
Tennessee was the epicenter of the outbreak early on and through Wednesday had reported 84 infections, including 13 deaths. Michigan through Wednesday had reported 64 meningitis cases and 91 incidences of epidural abscesses among a total of 164 patients, a number of whom had both.
Most of the early cases were of meningitis, but reports more recently have been of abscesses at the injection sites, many times in patients already being treated for meningitis, officials in Michigan and Tennessee said on Wednesday.
INCUBATION TIME UNCERTAIN
That makes it hard to determine how long the outbreak of steroid-related infections might yet last, officials said.
"These are presenting well into the course and I don't think with the epidural abscess that we've been able to establish a real concrete incubation time," said Jim Collins, director of the Michigan health department's communicable disease division.
Tennessee has seen 49 patients with localized infections, most of whom also had fungal meningitis, Dr. John Dreyzehner, the state's health commissioner, said on Wednesday.
"While these infections are not as serious as meningitis, they need to be identified and treated to prevent them from becoming a more significant health problem," Dreyzehner said.
Dr. Robert Latham, chief of medicine and director of the infectious diseases program at Nashville's St. Thomas Hospital, echoed Weber's words of caution about the outbreak.
"Because this is an ever-evolving situation, we still don't know how long patients will need treatment and when we'll really see the end," said Latham, who said he has spent some time with all 45 patients the hospital has treated in the outbreak.
St. Thomas Hospital was hit with an early influx of patients and was the first facility where doctors began to realize something had gone horribly wrong with medications from the New England Compounding Center.
Healthcare officials first predicted the outbreak would run its course in roughly six weeks, based on the incubation period initially estimated for the meningitis infections.
That six-week period passed in early November, and the number of cases being reported to state health agencies and the CDC has slowed "but it has not stopped," the CDC's Weber said.
Some patients have seen quick onset or much longer incubation periods, so doctors and patients have been warned to keep a close watch for at least several months.
@ 2012 Thomson Reuters. All rights reserved.