Ireland to Clarify Abortion Rules After Woman's Death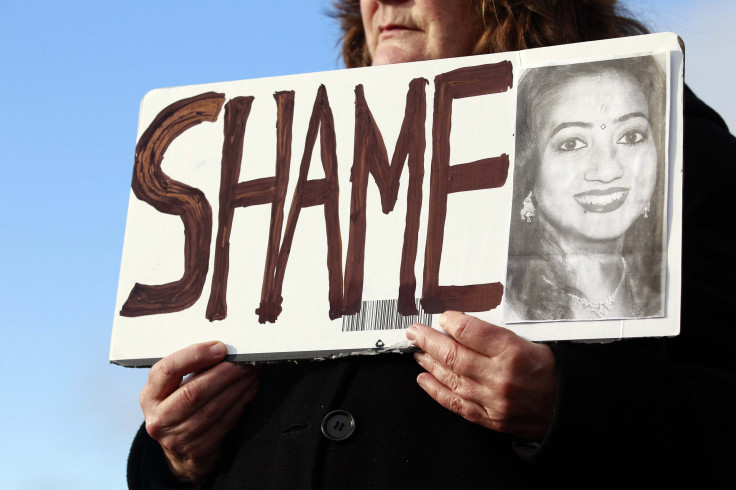 Ireland's government on Thursday pledged to clarify its abortion laws after a woman, who was denied a termination, died from septicemia in an Irish hospital.
Thousands held a candle-lit vigil outside parliament on Wednesday after news broke of the death of Savita Halappanavar, an Indian Hindu, following a miscarriage 17 weeks into her pregnancy.
Activists in Ireland, an overwhelmingly Roman Catholic country which has some of the world's most restrictive laws on abortion, say a lack of legal clarity about when termination's are justified may have contributed to her death.
"I was deeply disturbed yesterday by what Savita's husband said. I don't think as a country we should allow a situation where women's rights are put at risk in this way," Deputy Prime Minister Eamon Gilmore told parliament on Thursday.
"There is no question of equivocation. We need to bring legal clarity to this issue and that is what we are going to do," he said.
Irish law does not specify under what circumstances the threat to the life or health of the mother is high enough to justify a termination, leaving doctors to decide.
After several challenges, the European Court of Human Rights ruled in 2010 that Ireland must clarify its position.
The government has received recommendations from an expert panel after a delay of several months and would report before the end of the month, Gilmore said. Critics say the government has been dragging its heels to avoid confronting the issue.
The fact that Halappanavar is a foreign national has heightened the government's embarrassment. The story was on the front of several large Indian newspapers on Thursday.
The Indian government said on Thursday it deeply regretted Halappanavar's death. "The death of an Indian national in such circumstances is a matter of concern," a spokesman said.
Her death has dominated debate in Ireland's parliament since news of it broke on Wednesday.
Her photograph was spread across the front pages of all Ireland's major newspapers on Thursday, while editorials demanded action from politicians, who have failed for decades to clarify the law.
In 1992, when challenged in the "X-case" involving a 14-year-old rape victim, the Supreme Court ruled that abortion was permitted when the woman's life was at risk, but an earlier constitutional amendment banning abortion remains in place.
Despite a dramatic waning of the influence of the Catholic Church, which dominated politics in the country until the 1980s, successive governments have been loath to legislate on an issue they fear could alienate conservative voters.
@ 2012 Thomson Reuters. All rights reserved.