Jay Cutler Injury: Bears QB Out 4-6 Weeks With Torn Groin Muscle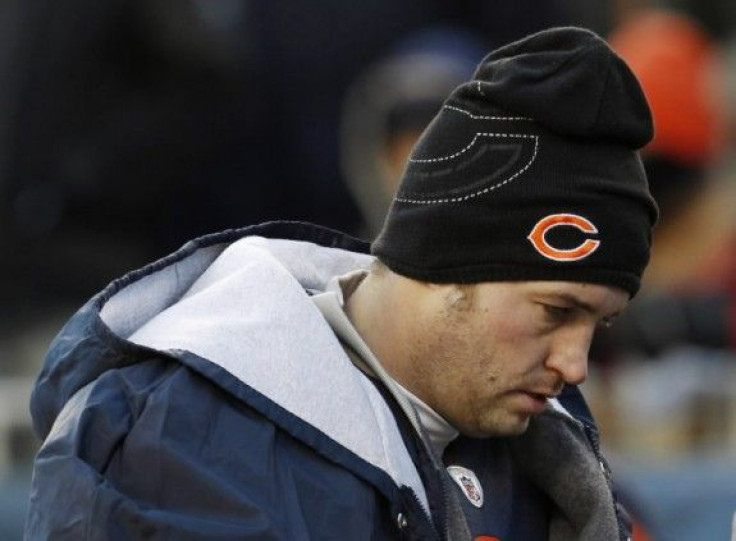 While Chris Baker's hit on Jay Cutler didn't look too serious, its implications could mean a rough next couple of weeks for the Chicago Bears. Cutler is expected to miss at least four weeks with a torn groin muscle after the hit in Sunday's loss against the Washington Redskins.
The Bears quarterback was clearly in pain following Baker's sack with a little over 10 minutes remaining in the first half. After he was treated by the Bears medical staff, Cutler was able to limp to the team's locker room while his teammate's watched.
"You never want to see your starting quarterback go down," Bears running back Matt Forte told ESPN. "When your starting quarterback goes down and you are used to him playing, it kind of does something mentally to you. We didn't want to see anything like that out there."
Cutler underwent an MRI on Monday, and Bears head coach Marc Trestman announced that he will not require surgery. Trestman also announced that Josh McCowan has been named the team's starting quarterback for week eight, and newly acquired Jordan Palmer will back him up.
Sunday's game led to major injuries on both sides of the ball for the now 4-3 Chicago Bears. Linebacker Lance Briggs and cornerback Charles Tillman were both unable to finish the game due to their own injuries. There is no word as to whether Tillman will miss time with a knee injury and whether Briggs will be joining Cutler on the sideline for the next four to six weeks with a shoulder injury.
"That's just the nature of the game," Bears cornerback Tim Jennings told the Chicago Tribune. "Of course you want those guys out there. But if they're not able to go, we've got to be able to figure out a way to make a play. I mean, it's extremely tough."
Published by Medicaldaily.com