J&J Starts Vaccine Trial In Sierra Leone, Even As Ebola Fades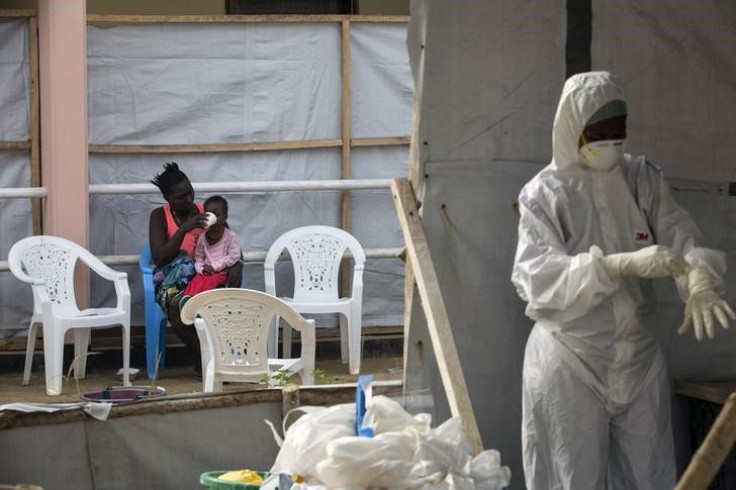 (Reuters) - Johnson & Johnson has begun a clinical trial of a two-shot Ebola vaccine in Sierra Leone, underlining its determination to push ahead with development, even as the epidemic fades out in West Africa.
The new study will investigate the experimental product's safety and its ability to provoke an immune response to the disease, which the World Health Organization says has killed more than 11,000 people in Guinea, Liberia and Sierra Leone.
Last week, for the first time since the Ebola outbreak was declared in March 2014, there were no new confirmed cases of the deadly disease in those countries, according to the U.N. agency.
Some survivors still suffer long-term effects from the virus, which can persist in parts of the body after clearing the blood, including a Scottish nurse taken ill in Sierra Leone last year who is now back in hospital for more treatment.
The world already has one successful Ebola vaccine, with Merck and NewLink Genetics' product proving 100-percent effective in a clinical study in Guinea in July.
But scientists and drug companies are continuing to research the potential of alternatives, since different kinds of vaccines may be better suited for different population groups.
"Both regulators and governments around the world have encouraged us to continue," Paul Stoffels, J&J's chief scientific officer, told Reuters.
Campaign groups such as Medecins Sans Frontieres are also keen to see multiple manufacturers in order to have competition in the vaccine market to ensure lower prices and ample supply.
J&J, which is working with Bavarian Nordic in developing its vaccine, said on Friday that trial recruitment was underway in Sierra Leone and the first volunteers had received their initial vaccine dose.
This is the first study conducted of the so-called prime-boost vaccine regimen in a West African country affected by the recent Ebola epidemic.
J&J's vaccine uses a combination of two components to strengthen the immunity and make it last longer. The U.S. healthcare company said it had scaled up production to more than 800,000 two-shot doses and had the capacity to produce 2 million if needed.
Scientific experts believe the success of Merck and NewLink's vaccine suggests other products in trials should also prove effective.
Although these alternatives may not be tested in preventing Ebola cases, given the current lack of disease, they could still be licensed and readied for use in future outbreaks based on human immune response results and data from non-human primate experiments.
GlaxoSmithKline is also working on an Ebola vaccine.
(Additional reporting by Supriya Kurane in Bengaluru; Editing by Anupama Dwivedi and Pravin Char)
@ 2012 Thomson Reuters. All rights reserved.