Josh Hargis, Army Ranger Believed To Be Unconscious, Salutes During Purple Heart Ceremony… Attendees Weep [VIDEO]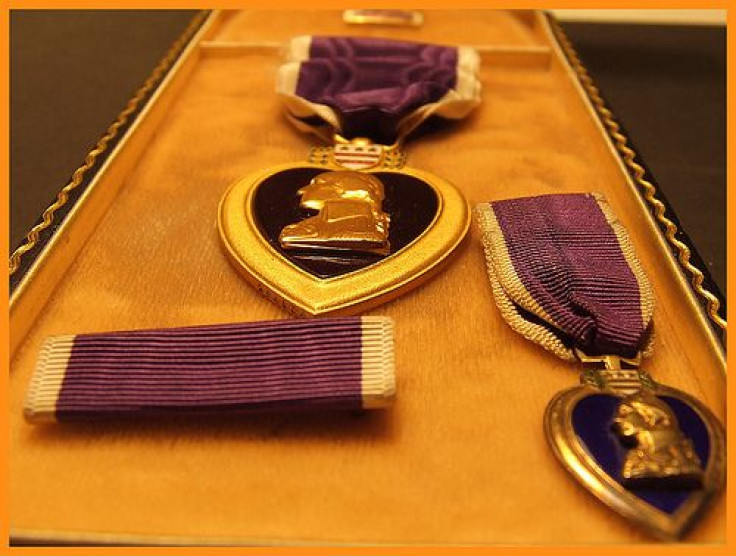 Twenty-four-year-old Army Ranger Josh Hargis was severely wounded in Afghanistan, but in a moment dubbed "the salute seen around the world," he raised his hand during a Purple Heart Ceremony where everyone in the room thought he was unconscious.
Hargis, a Cincinnati, Ohio native, was injured when an Afghan woman detonated a suicide vest bomb that set off 13 other nearby explosives. Four of the members of his battalion were killed in the blasts. Twelve other American soldiers were injured. Hargis was rushed to a military hospital, where his wounds were bandaged and he underwent surgery.
"Josh was seriously wounded, as you know, and survived for almost two hours after his injury before arriving to the hospital," Hargis' commander wrote in a letter to his wife, Taylor Hargis. "Josh had just come out of surgery. Everyone in the room, probably about 50 people, figured he was unconscious."
After his surgery, Hargis' commander and others came to his bed side to present him with a Purple Heart. A Purple Heart is a military decoration awarded to members of the armed forces who are injured by an instrument of war. Hargis lifted his bloodied, bandaged hand in a salute as his commanding officer presented him with the medal. About 50 people were in attendance, and there was not one dry eye.
"I cannot impart on you the level of emotion that poured through the intensive care unit that day," the commander wrote. "Grown men began to weep, and we were speechless at a gesture that speaks volumes about Josh's courage and character."
Taylor Hargis, who is pregnant with the couple's first child, said she's not surprised about her husband's strength in that moment. She described him as a "warrior."
"I would have cried, too," Taylor said. "I also would have told him how proud I am of him, how proud I am to be his wife, how proud I am of the people he's serving with over in Afghanistan."
Published by Medicaldaily.com