Kali Hardig, Arkansas Girl With Rare Brain-Eating Amoeba, Awes Doctors By Swimming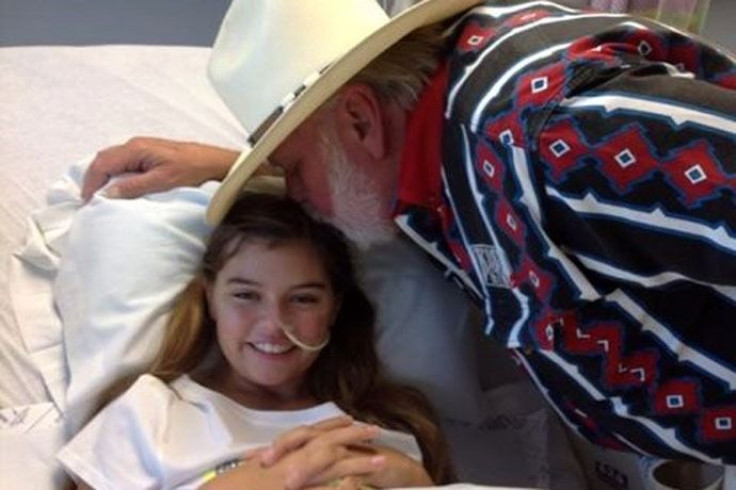 Kali Hardig, who became the first known carrier of parasitic meningitis in years according to the Centers for Disease Control and Prevention (CDC), took a swim at Arkansas Children Hospital on Friday. Just a few months back, Kali was hooked up to a ventilator and unable to speak or move after contracting the rare and deadly brain-eating amoeba.
Kali, who doctors believe will be able to leave the hospital later this month, developed the life-threatening disease this past July after a visit to a water park that has since been closed. The 12-year-old from Arkansas was also able to stomach filet mignon, a baked potato, salad, and bread during a fundraiser last week.
"She couldn't eat it all, but she ate some of each one of them. Her stomach is still so small that she fills up quick," the young girl's mother, Traci Hardig, told the Associated Press.
Kali's doctors credit her speedy recovery to experimental treatment and early detection and diagnosis, the Associated Press reported. They hoped that a dip in the pool would help to cool down her body, reducing inflammation. The team has just won approval to treat Kali with breast cancer drugs.
"She was fearful of water because that's how she got sick, and so to get over that fear, they took her swimming in the therapeutic pool," Kali's doctor, Dr. Esther Tompkins, told the Associated Press. "After she got over her initial hesitancy, she even started going underwater."
Naegleria fowleri, also known as the brain-eating amoeba, is a single-celled organism that can cause a crippling infection in the brain called amoebic meningoencephalitis. According to the CDC, 128 reports involving amoebic meningoencephalitis have been reported in the United States between 1962 and 2012.
An account of Kali's miraculous recovery comes just two days after news broke of a child who died in Louisiana after developing the infection from a possible bacteria-ridden water slide. The tragic occurrence caused St. Bernard Parish to flush its water system with chlorine.
Another child, 12-year-old Zachary Reyna from Florida, became the second in a month to die from the bacteria after he was infected while kneeboarding in a water-laden ditch on Aug. 3. He succumbed to the infection less than two weeks later.
Published by Medicaldaily.com