Kenyan Runner, Wilson Kipsang, Breaks The Marathon World Record In Berlin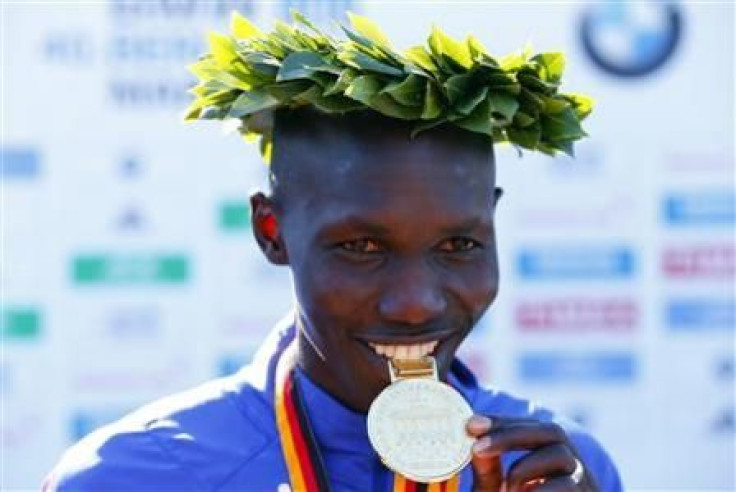 Kenyan runner Wilson Kipsang has officially broken the marathon record after finishing the BMW Berlin Marathon at 02:03:23. The previous record of 02:03:38 was set by fellow Kenyan athlete Patrick Makau in the same IAAP Gold Label Road Race back in 2010.
"This is a dream come true; 10 years ago, I watched Paul Tergat break the World record in Berlin, and now I have achieved the dream. I felt strong, so I attacked at 35k, because the pace had become a little too slow," Kipsang said in a post-race interview. "I was really inspired by Paul Tergat when he broke the world record here 10 years ago and I'm very happy that I was in a position to break the record on the same course."
According to the race officials, this is the ninth world record that has been broken in Berlin to date. At 31 years old, Kipsang has also been the winner of the 2012 London Marathon and 2011 Frankfurt Marathon, and a bronze medalist at the 2012 London Olympics.
"If I prepare very well, and with the same shape (I can go faster). Today there was a lot of wind, I was really fighting. Looking at my Marathon progress and career so far, I still think I have the potential to run faster. Anything under 2:03:23 would do," Kipsang added.
With five out of the top eight runners in this year's Berlin Marathon being from Kenya, one may wonder what makes East African countries a hotbed for the world's fastest runners. According to a joint study involving Kenyan distance runners, the answer could lie in the athlete's biology.
A team of researchers from Harvard University and the University of Glasgow set out to determine the legitimacy of early training in relation to Kenyan running success. In the past, athletics and endurance experts have attributed long walks to school and manual labor to Kenyans' competitive edge in marathon runs. Researcher Alexander Gibson, however, explained how Kenyan children's naturally low body mass index (BMI) plays a role in their running ability.
"It was clear early on that we were studying a remarkable population from watching complete the running tests, sometimes at speeds up to 18 km/hour while at altitude and wearing a portable accelerometer," Gibson told Runner's World. "It was also evident from observing the children in their rural, home environment, running to and from school, occasionally carrying books, younger siblings, or water."
Published by Medicaldaily.com