Lacey Holsworth, Adreian Payne's #1 Fan, Passes Away After Battle With Cancer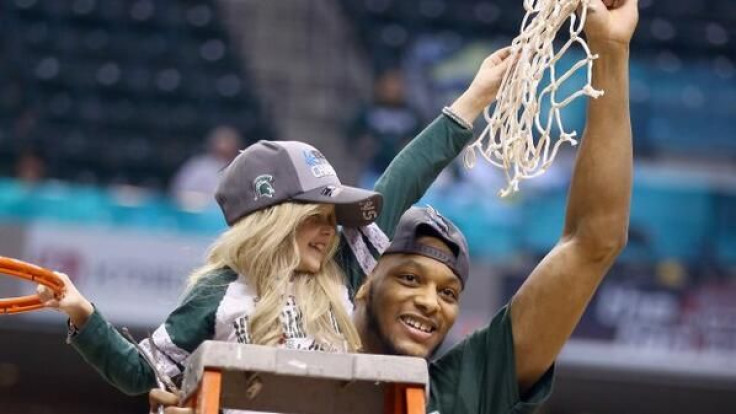 Lacey Holsworth, also known as "Princess Lacey," passed away on Wednesday following her two-year battle with neuroblastoma, an aggressive form of childhood cancer. The 8-year-old Michigan State basketball fan became part of March Madness' most compelling storylines after beginning an improbable friendship with the team's starting center, Adreian Payne.
Lacey's fight against cancer and friendship with Payne both started back in 2011 at Sparrow Hospital in Lansing, Mich. MSU's head coach Tom Izzo organized a meeting between Lacey and some of the members of MSU's basketball team. Paralyzed due to a tumor that wrapped around her spine and abdomen, Lacey was the picture of optimism and amazed the team. She and Payne hit it off immediately.
Following Lacey and Payne's initial meeting in her hospital room over two years ago, the two formed an emotional friendship that would endure many ups and downs. First there were text message and phone call exchanges while Lacey struggled with her condition. Then, after it appeared Lacey's cancer was in remission, she began visiting Payne and his teammates. Their meetings were a benefit to Payne as much as they were for Lacey.
"She calls me her 'Superman,' but she's the one who's got the super strength," Payne told the Lansing State Journal. "She's incredible with everything she's gone through. (Doctors) told her she wouldn't walk again. But she did. She's just an incredible fighter. And if I can bring her a little bit of happiness to help her forget everything for a little while, then that's what I want to do."
Unfortunately, Lacey's condition worsened this past fall as MSU was getting ready to start their season. While the cancer spread to various parts of Princess Lacey's body, including her neck, head, and pelvis, she still cheered on her favorite player from the stands. When Payne celebrated his senior night with MSU, Lacey was right by his side. When MSU won the Big Ten tournament, Lacey was in Payne's arms to help him cut down the net. The outpouring of support from the NCAA basketball community goes to show the difference one courageous girl can make in the hearts of many.
Published by Medicaldaily.com