March Madness Fairy Tale: Basketball Star's Special Bond With 8-Year-Old Cancer Patient Inspires Michigan State Win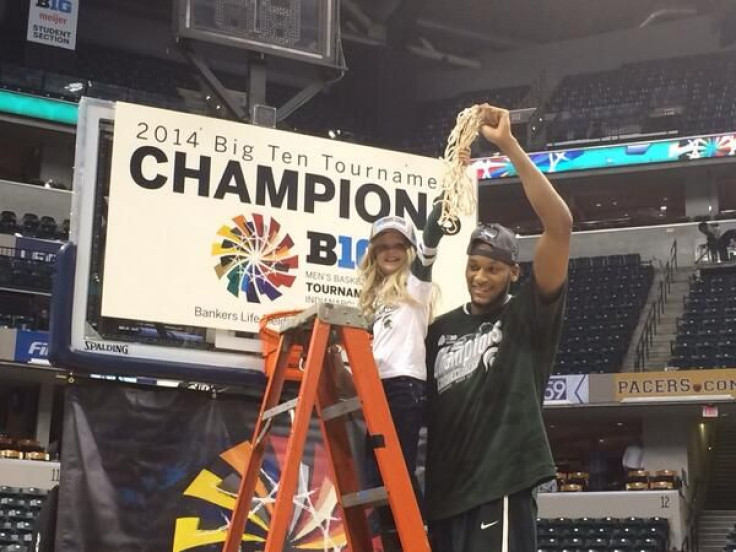 Since March Madness has kicked into high gear, it's inevitable not to spot Michigan State Spartan Adreian Payne's talent on and off the court. Payne's career-high 41 points for Michigan State in a second-round win over Delaware last Friday was inspired by the biggest March Madness star of all — a little girl fighting nerve cancer. The brother-sister bond between the NCAA athlete and 8-year-old Lacey Holsworth, also known as "Princess Lacey," has created this March Madness fairy tale.
The immediate bond was formed after the Spartans visited Holsworth's hospital room at the Sparrow Hospital in Lansing, Mich., in 2011, where she continues to battle neuroblastoma, a cancer that affects immature or developing cells, CBS Sacramento reported. Over the past two years, the two have kept in touch with visits, frequent texts, tweets, and phone calls. "I talked to them yesterday. I talked to Lacey and her parents yesterday and it's hard and it's like having a family member that's really sick and ill," said Payne when asked whether Lacey motivates him during his games. "And just knowing that when I play well it makes her happy, it feels like I'm doing something in a way to help her feel better."
The Tuesday before Payne's game, Holsworth suffered a seizure, another relapse after enduring rounds of chemotherapy and radiation in her jaw and neck. The 8-year-old, who has an active Twitter account, publicly announced the status of her health last Saturday:
While it does not remain clear how much longer Holsworth has, the Spartans, including coach Tom Izzo, believe she is pivotal to the team's success. "It hasn't been great the last six months. And he's just made it better for her. And our team has embraced it too and their family has embraced our team. But it's hung on because of Adreian Payne solely — solely," Izzo told Fox Sports.
Published by Medicaldaily.com